Rutgers community reacts to firing
Updated:
April 3, 2013, 4:14 PM ET
By
Mike Mazzeo
| Special to ESPNNewYork.com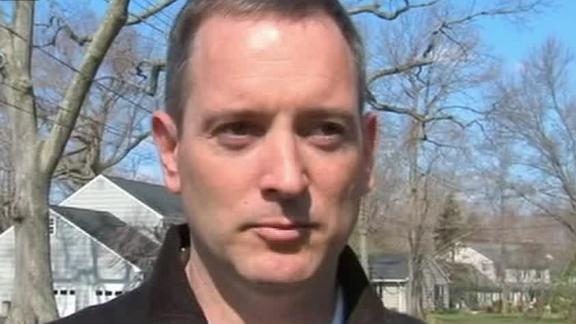 No Excuses For Mike Rice
Mike Rice reacts to the news he was fired as Rutgers basketball coach.
No Excuses For Mike Rice
NEXT VIDEO
No Excuses For Mike Rice

No Excuses For Mike Rice

Mike Rice reacts to the news he was fired as Rutgers basketball coach.

OTL: Coach Misconduct At Rutgers

OTL: Coach Misconduct At Rutgers

Outside The Lines has obtained practice video that shows Rutgers basketball coach Mike Rice berating and pushing players, and using slurs against them. After the initial airing, Rutgers fired Rice.
NEW BRUNSWICK, N.J. -- Rutgers did the right thing by firing men's basketball coach Mike Rice.
That was the sentiment from most students on campus Wednesday, shortly after the university announced that Rice had been terminated. Rice came under heavy scrutiny after video surfaced on ESPN's "Outside the Lines" showing him abusing his players both verbally and physically during practice.
More On Mike Rice Scandal
The bliss at Rutgers University over the hiring of AD Tim Pernetti and coach Mike Rice was short-lived after the culmination of a saga that began two years ago, writes Don Van Natta Jr. Story

---

The professors at Rutgers, unafraid of a powerful sports machine, are right in wanting Rutgers president Robert Barchi to go, Ian O'Connor writes. Story

---

The actions of Mike Rice toward his former players are reprehensible, and we must draw a line on the issue of abuse, writes Dana O'Neil. Story

• PDF: Eric Murdock files lawsuit
• Radio: Van Pelt and Russillo weigh in
• Reaction: Rutgers community speaks
• Radio: Mike & Mike | Bruce Pearl
"There's just no place for that in the game, so it's the right thing to do," said 19-year-old freshman Mike Denis while waiting for a bus near the university's famous Grease Trucks.
"You just have to move on and get somebody who's going to come in and treat his players better. ... Throwing basketballs at players' heads is not something I've ever seen done. Coaches get intense, they get mad, it happens, but doing things like that is just not right. Your players are considered your family, so you shouldn't be doing that."
Added 22-year-old junior Alexander Hughes: "Personally, I honestly think he should've been fired a lot sooner. If they knew he was doing this -- throwing basketballs at his players and using gay slurs -- back in the fall, they should've done something then."
Twenty-year-old junior Jack Daily, however, disagreed, saying that Rice shouldn't have been let go for the way he treated his players. Rather, he should've been let go because his teams underachieved in his three seasons at the helm, compiling a 44-51 overall record, including a dismal 16-38 mark in the Big East.
"I don't think Mike Rice shouldn't have gotten fired for the reason he got fired," Daily said. "Rutgers sucks at basketball, so I think that's reason enough. That being said, being a tough coach and calling your players p------ isn't reason enough to get fired."
Freshman Mike Popowich said Rice's firing has dominated talk on campus and social media.
SportsNation: Rutgers fires Mike Rice

Now that Rutgers coach Mike Rice has been fired for abusing players, should the university athletic director and president be the next to go?
• Vote!
"On Facebook, everybody's posting pictures of the news trucks on campus and stuff, so it's getting around," Popowich said.
"I just came home from work and a couple of my co-workers were talking about it," Hughes added, "and I know it's going to be referenced in one of my classes tonight."
The students didn't believe the university needed to go as far as firing athletic director Tim Pernetti and president Robert Barchi, who initially only suspended Rice for three games and fined him $50,000 in December.
"I don't think they should go that far, but they should be under tough scrutiny, because they knew that this was happening and they didn't do anything," Popowich said.
Barchi released a statement on why he decided to fire Rice now when he could have done it earlier.
"Yesterday, I personally reviewed the video evidence, which shows a chronic and pervasive pattern of disturbing behavior," Barchi said. "I have now reached a conclusion that Coach Rice cannot continue to serve effectively in a position that demands the highest levels of leadership, responsibility and public accountability. He cannot continue to coach at Rutgers University."
Twenty-year-old Michael Nicholson, a junior at The College of New Jersey who considers himself a huge Scarlet Knights fan, thought highly of Rice's passion and believes Rutgers will miss him on the sideline.
Rutgers in Big East Under Mike Rice
Win pct:
.296
2nd-worst
PPG:
62.5
2nd-worst
PPG diff:
-5.1
3rd-worst
Source: ESPN Stats and Information
"I thought he was a really great coach while he was here, and it's a shame to see stuff like that to the players, because you never want to see players treated like that," Nicholson said. "But I really loved his intensity for the team and the school. I thought he had a lot of pride for the school, so it's going to be a big loss, and it's unfortunate."
Chris Johnson, a 29-year-old NJ Transit worker who lives in nearby Metuchen, was shocked that the players would allow Rice to treat them so terribly.
"It's crazy," Johnson said. "Those kids aren't young. If I were those kids, I would've taken care of it myself, honestly. It's unbelievable."
Mike Mazzeo is a regular contributor to ESPNNewYork.com.
EDITORS' PICKS
The 10 toughest challenges facing coaches this season.
Brown »

How do decommitments change programs?
O'Neil

Who are the 10 best mascots in college basketball?
O'Neil »