Fab Melo ineligible for NCAA tourney
Updated:
March 14, 2012, 9:01 AM ET
ESPN.com news services
PITTSBURGH -- Syracuse will have to chase a national championship without starting center Fab Melo, who has been declared ineligible for the NCAA tournament.
The university announced Tuesday that the 7-foot Brazilian, who did not travel with the team to Pittsburgh for the second- and third-round games, won't take part in the tournament because of an eligibility issue. The school did not elaborate.
More From ESPN.com

In the opinion of ESPN's Jay Bilas, Syracuse losing Fab Melo just broke the East Region wide open for Vanderbilt and Ohio State. Blog

---

Syracuse has faced considerable controversy and distractions this season and has brushed all of it aside. Fab Melo's absence, coming at the worst possible time, is one the Orange cannot ignore, writes Dana O'Neil. Blog
• Mike & Mike: Reaction


• Stats & Info: Melo's impact
"Given University policy and federal student privacy laws, no further details can be provided at this time," the Syracuse website said.
Melo missed three games earlier this season -- including one of the top-seeded Orange's two losses -- because of an academic issue.
Melo was declared ineligible by Syracuse, not the NCAA, according to Bob Williams, the NCAA vice president of communications. Citing a source, ESPN.com had reported earlier that the NCAA had revisited Melo's previous suspension. Williams said that the NCAA deals only in an athlete's initial eligibility; once a player is on campus, his eligibility is the responsibility of the school.
Melo was the Big East Defensive Player of the Year and made coach Jim Boeheim's 2-3 zone defense a formidable one. He averaged 7.8 points, 5.8 rebounds and registered 88 blocks for the Orange, who spent a good portion of the season ranked No. 1 despite multiple off-court distractions.
Syracuse, given the top seed in the East Region, opens play at 3:10 p.m. ET Thursday against UNC Asheville (24-9), the Big South champion.
Coach Jim Boeheim said the Orange will be "ready to play."
SN: Syracuse to play without Melo

How will Syracuse losing the services of starting center Fab Melo impact your tournament bracket? Vote and discuss!
As he left the bus in front of the team hotel Tuesday, Boeheim at first said he had nothing to say. He then told The Associated Press that "all we can do is be ready to play with the guys we have."
"That's all we can do," he said. "There are injuries, things happen during a season. We'll be ready to play and we'll go play."
Melo's sudden ineligibility made waves in Las Vegas, where Cantor Gaming dropped Syracuse's chances of winning the title to 12-1 from 10-1 Tuesday morning, said Mike Colbert, Cantor's risk management director. Colbert said the region's No. 2, Ohio State, was lifted to 5-1 from 6-1 and other lines were affected.
Syracuse went from a 16.5-point favorite against 16th-seeded UNC-Asheville to a 15.5-point favorite.
Melo's presence might not be a factor in Syracuse's first game but it could be if Syracuse advances to face the winner of the Kansas State-Southern Mississippi game or possible future opponents in the East Regional such as Ohio State, with sophomore center Jared Sullinger, Florida State or Wisconsin.
Sophomore Baye Keita or freshman Rakeem Christmas should get the start. The Orange are one of the deepest teams in the tournament with seven players, including Melo, averaging between 13.8 and 6.6 points per game.
Brackets Take Notice
In the few hours since Fab Melo was declared ineligible for the NCAA tournament, Syracuse's popularity in ESPN.com's Tournament Challenge has taken a tumble.
Percentage of Brackets That Pick
Syracuse at Each Round
| | 3 p.m. | 7:40 p.m. |
| --- | --- | --- |
| Win it all | 10.57 | 8.82 |
| Title game | 22.16 | 18.62 |
| Final Four | 41.23 | 35.27 |
Also of note, 11.85 percent of brackets have Syracuse failing to advance to the Sweet 16, the only No. 1 seed at more than 10 percent. And only 62.57 percent of brackets have Syracuse in the Elite Eight, the fewest of all the No. 1 seeds and even behind No. 2 seeds Missouri and Kansas.
The Orange opened the season with 20 straight wins before losing 67-58 at Notre Dame without Melo. Syracuse then won 11 in a row before losing 71-68 to Cincinnati last Friday in the Big East tournament semifinals.
The news is the latest development in a tumultuous season for Syracuse.
Last week, school officials said the university had more than a year ago self-reported possible violations of its internal drug policy by former members of the team and that the NCAA was investigating. None of the current members of the team was involved.
In a report, Yahoo! Sports said a three-month investigation it conducted showed that the Syracuse men's basketball program failed to adhere to the drug policy while playing ineligible players over the past decade.
The report, which cited anonymous sources, said at least 10 players since 2001 had tested positive for a banned recreational substance or substances. The report did not identify who tested positive. Syracuse won its lone national championship in 2003.
And the season began with the dismissal of associate head coach Bernie Fine after two former ball boys accused him of sexually molesting them in the 1980s. While charges have yet to be filed against Fine, he was fired in late November. Boeheim and the university are also facing a defamation suit filed by the ball boys -- Bobby Davis and stepbrother Mike Lang.
Information from The Associated Press was used in this report.
2012 NCAA TOURNAMENT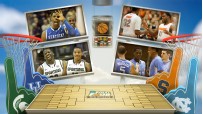 Sixty-eight teams have their sights set on New Orleans. Which ones will make it there?
Tournament home » Bracket » Challenge »
ELITE EIGHT
SWEET 16
SECOND/THIRD ROUNDS
PREVIEW COLUMNS AND FEATURES
BRACKET REACTION
SPECIAL SECTIONS
Nike Men's Syracuse Orange Replica White Basketball Shorts Shop »

MOST SENT STORIES ON ESPN.COM