President Obama picks Tar Heels
Updated:
March 14, 2012, 9:26 PM ET
ESPN.com news services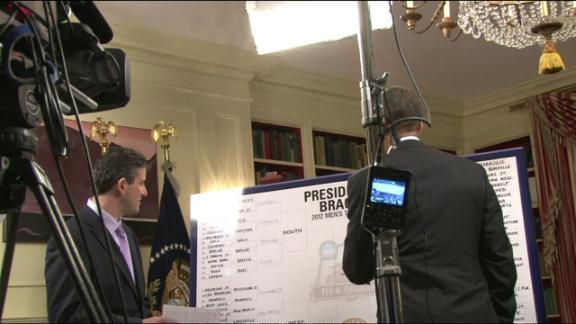 Behind The Scenes Of President Obama's Bracket
Behind The Scenes Of President Obama's Bracket
President Barack Obama is going back to Carolina in his NCAA tournament bracket.
The president, who correctly picked North Carolina to win the 2009 NCAA championship, has the Tar Heels as the team to beat in his 2012 bracket, which was unveiled Wednesday.
Barack-etology

Andy Katz watched the president of the United States make his college basketball tournament picks on Tuesday. He recaps the day at the White House. Blog
• President Obama's bracket
• Play Tournament Challenge
Obama has North Carolina beating Kentucky, the overall No. 1 seed, in the title game. Ohio State and Missouri are his other Final Four selections.
Obama filled out a bracket for the fourth consecutive year. The past two seasons, he picked Kansas to win the title. The Jayhawks were eliminated early both times.
"I am going with North Carolina getting revenge for the regular-season victory [Kentucky beat the Heels in December]," Obama said. "They are an older team more of experienced team. I think Kentucky is unbelievably talented, but I think [guard Kendall] Marshalls' play -- [forward Tyler] Zellers' play -- I see North Carolina winning it all."
Obama said he went back and forth on North Carolina and Kentucky, but finally settled on the Tar Heels.
"I think this will be a great game," he said. "I think it will come down to the wire. But in the end -- I think it goes back down to Chapel Hill."
The president has a couple of surprises in his Sweet 16 -- New Mexico, the fifth seed in the West, and North Carolina State, the 11th seed in the Midwest.
The NCAA tournament continues Thursday. Obama attended a first-round game Tuesday night in Dayton with British Prime Minister David Cameron. The pair saw Western Kentucky rally to beat Mississippi Valley State 59-58.
Republican presidential candidate Mitt Romney said he won't be filling out a tournament bracket.
"I'm not plugged in well-enough this year to do that," Romney said Tuesday during a brief exchange with reporters traveling with him in Missouri.
The president has Baylor, St. John's, Connecticut and Notre Dame in the Final Four of his women's bracket, which will be unveiled in its entirety Friday. The NCAA women's tournament begins Saturday.
Information from The Associated Press was used in this report.
2012 NCAA TOURNAMENT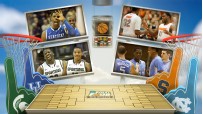 Sixty-eight teams have their sights set on New Orleans. Which ones will make it there?
Tournament home » Bracket » Challenge »
ELITE EIGHT
SWEET 16
SECOND/THIRD ROUNDS
PREVIEW COLUMNS AND FEATURES
BRACKET REACTION
SPECIAL SECTIONS
MORE MEN'S COLLEGE BASKETBALL HEADLINES


MOST SENT STORIES ON ESPN.COM