Ross comes through for Buckeyes
LOS ANGELES -- On Thursday night, LaQuinton Ross finally felt like a hero.
The sophomore hit the biggest shot in the biggest game of his life. His 3-pointer with 2.1 seconds to play -- a few feet behind the line -- sealed Ohio State's 73-70 victory over Arizona at Staples Center and sent the Buckeyes to the Elite Eight.
He was mobbed by his frenzied teammates immediately following that critical bucket. He was serenaded by the Buckeyes fans who traveled to the West Coast for the game.
"I'd like to credit my coaches for the play," Ross said after the win. "It was similar to the play we ran last game. … It so happened they messed up on the switch right there, and I was able to knock down the shot."
[+] Enlarge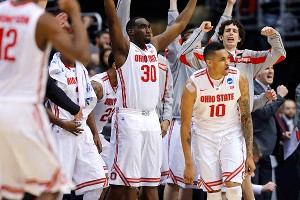 AP Photo/Jae C. HongLaQuinton Ross (10) and his Ohio State teammates react after Ross' big 3-pointer.
It was a fitting conclusion. Ross scored 17 points in his team's Sunday win over Iowa State in the round of 32. He'd gained so much confidence in recent weeks that he challenged former NBA All-Star and broadcaster Reggie Miller to a 3-point contest on Wednesday.
"I think I'm going to try to make him come out of retirement and shoot a little bit," he said.
And changing in the locker that's used by NBA legend Kobe Bryant only helped.
"I found out from one of the guys that works here it was Kobe Bryant's locker," he said. "Before we got here, I called dibs on it anyway. But I didn't know whose it was until he came in and told me. I was excited about that, though."
Seconds prior to Ross' game-winning shot, however, he was disheartened. As the Wildcats crept closer in the final minutes, Thad Matta urged his team to avoid fouls.
And then, Ross committed one as Mark Lyons drove to the rim with 21 seconds to play. Lyons hit the shot and the free throw, which tied the score 70-70.
The frustrations of that moment were more accurate depictions of his career thus far than the game-winning 3-pointer.
Ross was one of the top eighth-graders in the country. The buzz fluctuated until he was ranked 53rd in the country in the Class of 2011 by RecruitingNation. The Mississippi native ultimately picked the Buckeyes over Syracuse, Baylor and West Virginia.
But he was deemed academically ineligible last year and missed the first half of the season as a result. By the time he joined the team midway through the year, Matta didn't have much room for him. He played in just nine games in 2011-12.
"What happened last year is he didn't join us until mid-December," Matta said. "He missed grade school, junior high, high school, because those first two months of the season are the most important months in terms of fundamentals, that sort of thing. So when he got here, he was a little behind. I told him at one point, 'Look, I can't hold tryouts during the Big Ten. The league is too good.' To his credit, he kept working. He got better. Had a great offseason. Like I said, I'm just very, very proud of him."
From last year's hurdles to a 3-pointer with seconds on the clock that guaranteed Ohio State's slot in the Elite Eight on Saturday. That's some journey.
Ross' highlight matched the intensity of the affair.
[+] Enlarge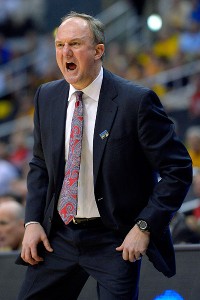 AP Photo/Mark J. TerrillThad Matta credited Ross for continuing to work hard to get some playing time with the Buckeyes.
An Ohio State team that's usually poised suddenly looked uncomfortable in the first half. The crowd and the energy on the floor seemed to favor Arizona. The Buckeyes, 11th in turnover rate per Ken Pomeroy entering the game, committed five turnovers in the first half.
Aaron Craft committed two fouls that limited his time.
Plus, Sean Miller went with a long, athletic lineup (Grant Jerrett, Brandon Ashley and Solomon Hill on the floor at the same time) that perplexed the Buckeyes. Kevin Parrom's free throws gave Arizona a 33-22 lead with 6:24 remaining in the first half.
Once Craft re-entered the game in the final minutes of the first half, however, the Buckeyes began to roll. They finished the half on a 12-4 run and were down by four points at halftime. But they had the momentum. They began the second half on a 10-0 run, and the Wildcats didn't record their first points in the second half until the 14:40 mark. By then, the Buckeyes had a 44-40 lead.
They didn't surrender that edge until the final seconds.
Ross' rally gave Ohio State a 65-59 lead with 5:25 remaining on the game clock. Another Ross layup extended Ohio State's lead to 69-63 with 1:34 to go.
And then, Mark Lyons arrived. He scored 10 points in the first half but started the second half by missing three of his first four shots.
But late, he recorded seven points in 60 seconds, a sequence that ended with the game-tying play and Ross' late foul.
Ross had been one of the best players at Staples Center for two hours. One foul, however, nearly ruined the fascinating tale he'd penned in Kobe Bryant's house.
For the bulk of his athletic career, Ross has been followed by expectations that he couldn't quite reach. Perhaps they were unrealistic or unfair.
But that foul -- and other growing pains -- might have reminded observers of his shortcomings instead of his potential.
That's why Lenzelle Smith Jr. grabbed his teammate and talked to him. He was familiar with the feeling. So he offered counsel.
"He was out of it. … I kind of knew where he was sitting. It's like you lost your team the game," Smith said. "I just told him, 'Look, we're going to need you in this game.' Lo and behold, you gotta have a short memory on that. We needed him more than ever."
On the next play, Ross waited for the high screen, found room and launched a shot that confirmed the promise many acknowledged when he was only in middle school. Smith broke up Arizona's half-court pass and Craft collected the deflection as time expired.
"This is what every player grows up looking at on TV and wants to hit that big shot, wants to win the game and hit the big shot in the NCAA tournament or the NBA," Ross said. "It just feels great to be here right now."
Lyons and Ross met on the offseason basketball circuit last summer. So when it was time to shake hands after Thursday's game, Lyons whispered something to a friend who'd just sent his team back to Tucson in the final collegiate contest of his career.
"At the end of the game, I just told him, 'I can't stand you' and just laughed at him," Lyons said. "He's a good guy. He's a great player, and that's one of my friends. So it was just a little joke that we had."
Last year, the idea of Ross playing protagonist in the final seconds of a Sweet 16 game would have been met with laughs, too.
ESPN.com college basketball reporter
Joined ESPN.com in 2011
Wrote for Minneapolis Star Tribune
SPONSORED HEADLINES
MORE MEN'S COLLEGE BASKETBALL HEADLINES
MOST SENT STORIES ON ESPN.COM
ROAD TO ATLANTA
And then there were two. What are our writers looking forward to in the title game? Who's the X-factor? Here's a preview. Home Court »
THE NATIONAL CHAMPIONSHIP
Rawlings Ohio State Buckeyes Crossover Full-Size Basketball Shop »