SMU misses out on NCAAs
Updated:
March 17, 2014, 9:57 AM ET
By
Richard Durrett
| ESPNDallas.com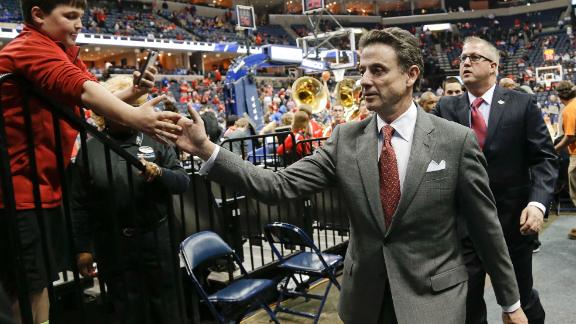 Biggest Issues With The Bracket
Rece Davis, Jay Williams, Jay Bilas and Digger Phelps examine teams they believe to be overseeded or underseeded.
Biggest Issues With The Bracket
UNIVERSITY PARK, Texas -- A little more than a thousand SMU fans, players, band members and cheerleaders and coach Larry Brown sat in Moody Coliseum in anticipation of the school's first NCAA appearance in more than two decades, only to experience disappointment.
SMU's name never appeared on the NCAA bracket. Instead, the Mustangs must be content with the No. 1 overall seed in the school's first appearance in the NIT since 2000.
It turns out that the team's only three-game losing streak of the season came at the wrong time, as the Mustangs fell to Louisville and Memphis to end the regular season and then lost to Houston in the first round of the American Athletic Conference tournament. Losing to two of the league's worst teams in South Florida and Temple might not have helped, either. All of it was just enough to keep the invitation from showing up on the SMU campus, about 20 miles from where the Final Four will be played in less than a month at AT&T Stadium.
Taylor: SMH For SMU

Sure SMU is disappointed, but it can only blame itself for missing the NCAA tournament, Jean-Jacques Taylor writes. Story
Moments after the broadcast was over, Brown took the microphone and addressed his team and those fans in attendance.
"I feel bad for our team and you fans," Brown said. "I feel like we let you all down."
That got an immediate reaction from the crowd, shouting: "No."
Brown, clearly disappointed and admitting that he didn't know what to say, chose to focus on how his team can respond.
"When things don't go exactly how you planned, you can either pack it in or you can find a way to do better," Brown said. "We need to use this as a way to get better."
SMU finished the season 23-9 and had an RPI of 53 entering Sunday's games. It was a memorable season for the Mustangs, despite losing three consecutive games to finish the regular season.
Mike and Mike
SMU coach Larry Brown comments on the Mustangs' failure to receive a NCAA tournament bid, whether he would have scheduled differently, preparing for the NIT and more.
In speaking to the media afterward, Brown lamented some of the close calls SMU had over the course of the season.
"We could have beaten Louisville at home. We jumped on them, then got in foul trouble and acted silly," Brown said. "We didn't play our best game at Memphis, but we didn't get blown out by either team. I looked at our schedule; we didn't get blown out by anybody.
"We almost beat Virginia. We had possession down one. But when we didn't beat Houston, I kind of thought this could possibly happen. People have said we lost our last three games. We lost two of our last three against top-20 teams, and one of them might be the best team in America. I was hoping maybe they would look at it that way but I think they looked at [it] like we lost our last three games."
SMU defeated four ranked teams for the first time since 1955-56, which also was the school's only Final Four appearance. The Mustangs won 23 games for the first time since 1987-88 and earned 12 conference victories for the first time since 1992-93.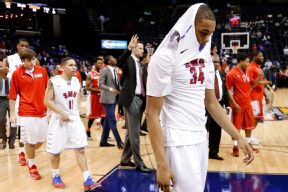 AP Photo/Mark HumphreyA late-season swoon cost SMU a trip to the NCAA tournament, but the Mustangs did earn the top overall seed in the NIT.
SMU made Dallas a true home-court advantage, going 15-1 at home, including 9-1 in the newly renovated Moody Coliseum. Three of the team's wins over ranked opponents occurred in that building.
Brown spoke to his team briefly after the NCAA selection process was over.
"I said I don't want anybody crying or complaining because that takes away from the teams that got in," Brown said.
Brown said that when he saw that Louisville got a No. 4 seed, he "figured that they [the selection committee] didn't have a lot of respect for our conference."
Brown stressed to his team to finish the season with a strong effort in the postseason and said he felt like the Mustangs didn't finish as well as they could have, which might have cost them a chance to get to the NCAA tournament.
"I think we'll be better for this," Brown said. "I certainly hope I am and I'm pretty confident the people in that locker room will learn from it and grow from it, and hopefully it will help our program get to the point where we want it to be."
EDITORS' PICKS
Who are the 10 best mascots in college basketball?
O'Neil »

Can these 10 players live up to expectations?
Medcalf »

Our rankings are updated, and there's a new No. 1.
ESPN 100 »