Tom Izzo happy at Michigan State
Updated:
March 26, 2014, 10:18 AM ET
ESPN.com news services
Tom Izzo has a message for the NBA should it come calling again: He's still happy in college.
SVP & Russillo
ESPN CBB Insider Andy Katz covers Tom Izzo's future, the coaching searches at Marquette, Boston College and Wake Forest, the Sweet 16 of the NCAA tournament and more.
"There's been so many rumors over the years," the Michigan State coach said on ESPN's "SportsCenter" on Tuesday. "I look at people I used to recruit against years ago [that] said that I'd be gone, but I'm still here and some of those schools have had three different coaches.
"I've always said I'd never say never to anything because you never know what it brings. But I got so much more work to do here. I have a great president, a great AD and a football coach that I really get along [with]. So this is a pretty good place for me right now. We're in a pretty good spot. Program's in pretty good shape.
"Ain't broke, so why fix it?"
The fourth-seeded Spartans play 1-seed Virginia on Friday in the East Region semifinals.
Izzo's comments come after a USA Today report stated the Detroit Pistons, enduring another disappointing campaign, could make a play for Izzo after this season.
The Pistons are expected to be in the market for a new coach. Maurice Cheeks was fired during the season, and interim coach John Loyer likely won't be back.
Izzo said after Tuesday's practice that he hasn't talked to the Pistons or Detroit owner Tom Gores, adding that he has never met Gores, a Michigan State graduate.
"I swear to you, I have not talked to one soul from the Pistons," Izzo said.
Fellow coach Jim Boeheim of Syracuse would be surprised if Izzo ever bolted for the NBA.
"I think the only thing to consider is do you want to coach in the NBA? For me it never was an issue, I never really had that desire," Boeheim told ESPN Radio's "Mike & Mike." I kinda like the idea of just coaching nothing else. I just think some coaches are better suited for college than the NBA. I believe I'm one of those guys. And I think Tom Izzo is one of those guys. Mike Krzyzewski. I think they found the right jobs and they've stayed with them. I would be shocked if Tom Izzo left Michigan State. You know anything is possible but he is a great, great college coach."
Izzo, 59, flirted with the NBA in the past, nearly taking the Cleveland Cavaliers' job in 2010. He is 467-186 in 19 seasons, and his teams have reached six Final Fours. The Spartans have made the NCAA tournament 17 consecutive seasons and won the title in 1999-2000.
The Spartans are slightly favored to beat top-seeded Virginia on Friday night and are a popular pick to win three more games for the school's third national title.
"The best team who plays the best is going to win," Izzo said. "And, that's what we've got to do, no matter who's the favorite, who's the underdog, where the bull's-eye is, who's picking you to win.
"I guess the only thing is I don't mind letting down alums, but man, the president, I don't want to let him down. That's a little bigger."
President Barack Obama is among the many people who have picked Michigan State to win it all.
The Associated Press contributed to this report.
SPONSORED HEADLINES
MORE MEN'S COLLEGE BASKETBALL HEADLINES
MOST SENT STORIES ON ESPN.COM
2014 NCAA TOURNAMENT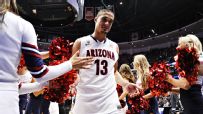 Of the 68 teams that started the Big Dance, 16 remain. Which will end up in Arlington, Texas?
COMMENTARY
WHAT'S NEXT
VIDEO
EDITORS' PICKS
Talent evaluation is far from an exact science.
Brennan »

Point guard could be a big issue for Kansas.
Medcalf »

Which teams caught bad bounces last season?
Gasaway