Pack-line defense works for Virginia
Even after rule modifications, the Cavaliers win because of the way they defend
Originally Published:
March 26, 2014
By
C.L. Brown
| ESPN.com
For all the talk about freedom of movement coming into the season, opponents of Virginia feel awfully constricted.
The Cavaliers boast the nation's No. 1 scoring defense (55.5 points per game), and they rank ninth in field goal percentage defense (38.6).
While they had to make adjustments to the new emphasis on eliminating handchecking, bumping cutters and the like, the Cavaliers had a built-in advantage in adapting. Virginia coach Tony Bennett's use of the pack-line defensive scheme eliminated a lot of their worries.
"We don't extend way out on the court; we try to have solid ball pressure, but everything else is predicated on our stance, our position, and it's really a collective defense," Bennett said. "So if you're in good position, hopefully you don't foul as much and you try to play more with your feet and not your hands."
Bennett is just continuing the use of the defense his dad, Dick Bennett, made popular during his years at Washington State and Wisconsin. Tom Izzo of Michigan State, Virginia's next opponent, and Sean Miller of Arizona, the No. 1 seed in the West, also run a variation of the defense.
[+] Enlarge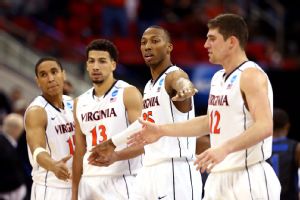 Streeter Lecka/Getty ImagesVirginia knows it wouldn't have won the ACC's regular-season and tournament titles without its signature pack-line defense.
The entire scheme is based on sagging in the lane and preventing dribble penetration. Once officials began to remove handchecking from the game, many teams found that hard to do.
Virginia didn't have that problem. The on-ball defender is expected to apply intense pressure. The other four defenders, instead of denying passing lanes, stay packed around the lane.
"When your man doesn't have the ball, you're in the driving lanes so [opponents] can't get easy drives to the basket," forward Anthony Gill said. "Then you have to anticipate the guy who is driving the ball. If he picks it up, you have to close out and anticipate."
If any team could test the ability to get in the lane against the Cavs, it was Memphis. Bennett was concerned with the NCAA tournament matchup because of the Tigers' array of quick guards, who could all get to the rim.
That didn't happen in Virginia's 78-60 third-round win. Not only did the Cavs hold Memphis 17 points under its scoring average, they also held it to 40.7 percent shooting.
"They've got to be the best defensive team I've ever played against in college," Memphis guard Joe Jackson said. "The way they see the ball, never lose sight of the basketball. They help each other out every possession. You will never get an easy layup on them."
Where the scheme leaves them a bit vulnerable is on the perimeter. The key to being able to sag in the lane is anticipating passes to the perimeter in order to contest jump shots. If there's any hesitation or wrong guesses, the opponent could get an open look from deep.
"It's not even difficult in the terms and learning it, it's physically having your body ready and anticipating," guard Malcolm Brogdon said. "The pack-line is all about anticipating, and anticipating where to be at the right time."
The pack-line faltered a bit in the first half of Virginia's second-round game against Coastal Carolina. The Chanticleers made five 3-pointers en route to a 35-30 halftime lead, and they made nine deep balls in the game. Earlier in the season, Tennessee also burned the Cavs with 11 3-pointers, which led to their biggest loss of the year, 87-52.
Allowing open perimeter shots works two ways, though. Some of Virginia's opponents have been baited into thinking perimeter shots present their best opportunity to score, and they settle for those shots.
More than having a system in place, Bennett has assembled the right personnel to play the pack-line defense. With the exception of 6-foot-11 center Mike Tobey, most of his guys are interchangeable and quick enough to defend even when they get switched off on smaller guards.
That, along with mentality, is why Justin Anderson said the Cavs have been a successful defensive unit.
"It's not common in basketball when a group of guys come together and we're talking about our defense," Anderson said. "Everybody wants to talk about, 'Oh, I'll drop buckets, I'll get 30.' We're like, 'I'll lock you up.' That's the joke on our team -- everybody takes pride in defense."
College Basketball
College basketball/North Carolina reporter.
Joined ESPN.com in 2013.
Graduate of the University of North Carolina.
2014 NCAA TOURNAMENT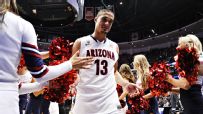 Of the 68 teams that started the Big Dance, 16 remain. Which will end up in Arlington, Texas?
COMMENTARY
WHAT'S NEXT
VIDEO
EDITORS' PICKS
Thanks to new NCAA rules, some teams begin practice this week.
O'Neil »

Some returning players are ready to make an impact now that they're back.
C.L. Brown »

Is Oklahoma a threat in the Big 12?
Andy Katz