Commentary
A Bronx cheer in Kansas City
Royals fans boo Robinson Cano, then applaud his homerless Derby showing
Updated:
July 11, 2012, 7:20 PM ET
By
Jim Caple
| ESPN.com
KANSAS CITY -- This probably bodes well for Mets first baseman Ike Davis making the Home Run Derby squad at next year's All-Star Game at Citi Field in New York. Heck, the way Kansas City fans let Robinson Cano have it, next year's Home Run Derby captain might be tempted to pick Ruben Tejada and Mr. Met as well.
With no postseason appearances since 1985, Kansas City fans haven't had a lot to cheer in the past 27 years. But boy, did they ever have something to boo during Monday night's Home Run Derby. A full house at Kauffman Stadium made its displeasure very clear to Cano, the American League captain, for not picking Royals designated hitter Billy Butler to his squad. They booed so loudly that the exhibition could have been mistaken for an ALCS game between the Yankees and Red Sox at Fenway Park.
[+] Enlarge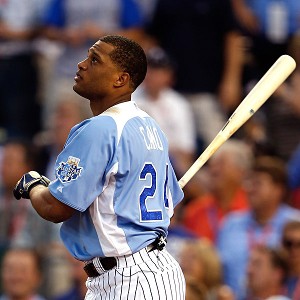 Jamie Squire/Getty ImagesTo the delight of the Kansas City fans, Robinson Cano became the first player since Brandon Inge in 2009 to go homerless in the Home Run Derby.
That will teach Cano for not pandering to the local electorate.
"I expected that [reaction],'' Cano said. "I was criticized even before I got here. When you play for the Yankees, everywhere you go you get booed.''
Asked whether he considered the relentless booing "low class,'' Cano said no, not at all. "This is for the fans and that's what they feel like. There's nothing else I can do.''
At least Cano wound up pleasing the fans in the end. One year after winning the Derby, he was shut out in the first round, delighting the fans and becoming the first player to go homerless since Brandon Inge in 2009. Cano said the fans did not affect his performance but added he was a little tired because his flight arrived in Kansas City at 4:30 Monday morning.
Butler has 16 home runs this season compared to Derby participants Jose Bautista (27), Mark Trumbo (22) and two-time Derby champ Prince Fielder (15).
"It was a tough decision,'' Cano said. "Adam Dunn has 25 home runs, Adam Jones has 20, Edwin Encarnacion has 23. The thing is, you get to pick three guys and it's a tough decision.''
The booing followed a similar yet quieter round of booing at last year's Derby in Arizona when Prince Fielder left the Diamondbacks' Justin Upton off the NL team. "It's definitely nothing malicious intended,'' Fielder said, sympathizing with Cano. "Sometimes you just don't pick someone. He's not mad at Billy [Butler].''
"I'm not upset at all,'' Butler said. "I was happy to be out there. I had a great time with my family. … There's nothing negative. Obviously, Robinson is a great player and a great guy. He's one of the best players in the league. You can't dislike the guy.''
Despite the rough fan response and the poor showing, Cano said he would happily take part in another Derby. "Why not? You're not going to be the hero all the time. …. This is for the fans. When you make a mistake, you have to take it.''
DERBY INFORMATION


Monday, July 9
8 p.m. ET, ESPN
Kauffman Stadium
Kansas City, Mo.
*****
FEATURES AND ANALYSIS
AMERICAN LEAGUE
Jose Bautista
BATS: R | POS: RF | TEAM: TOR
• Derby No: 2nd » 2012 HRs: 27 »
• Average: 403.3 ft. » Longest: 455 »
*Robinson Cano
BATS: L | POS: 2B | TEAM: NYY
• Derby No: 2nd » 2012 HRs: 20 »
• Average: 406.8 ft. » Longest: 440 »
Prince Fielder
BATS: L | POS: 1B | TEAM: DET
• Derby No: 4th » 2012 HRs: 15 »
• Average: 411.7 ft. » Longest: 456 »
Mark Trumbo
BATS: R | POS: RF | TEAM: LAA
• Derby No: 1st » 2012 HRs: 22 »
• Average: 419.5 ft. » Longest: 459 »
NATIONAL LEAGUE
Carlos Beltran
BATS: B | POS: RF | TEAM: STL
• Derby No: 1st » 2012 HRs: 20 »
• Average: 408.9 ft. » Longest: 464 »

Carlos Gonzalez
BATS: L | POS: LF | TEAM: COL
• Derby No: 1st » 2012 HRs: 17 »
• Average: 412.4 ft. » Longest: 445 »
*Matt Kemp
BATS: R | POS: CF | TEAM: LAD
• Derby No: 2nd » 2012 HRs: 12 »
• Average: 411.4 ft. » Longest: 454 »
Andrew McCutchen
BATS: R | POS: CF | TEAM: PIT
• Derby No: 1st » 2012 HRs: 18 »
• Average: 398.9 ft. » Longest: 446 »
* -- captain