Ortiz Named MVP
David Ortiz talks to Chris Berman after winning the World Series Most Valuable Player award.
FOLLOW "BASEBALL TONIGHT" ON TWITTER
PODCAST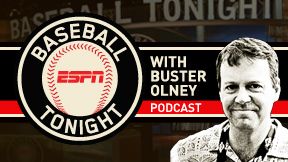 Each Monday through Friday, Buster Olney leads the baseball discussion along with other top ESPN reporters and analysts.
VIDEO
Looking at the special bond between a father and his child at the ballpark.
THE "BASEBALL TONIGHT" TEAM