MLB Power Rankings
Aaron Boone breaks down the top teams in baseball.
BASEBALL TONIGHT THROUGH THE YEARS
This is the 25th year of Baseball Tonight being on the air. Follow along as we look back at the years gone by. Photo Gallery
PODCAST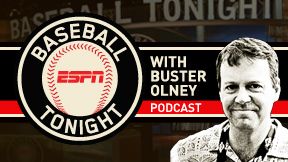 Each Monday through Friday, Buster Olney leads the baseball discussion along with other top ESPN reporters and analysts.
BASEBALL TONIGHT ON THE AIR
MONDAY, JULY 28
10 p.m. ET, ESPN/WatchESPN
Host: Jon Sciambi
Analysts: Ozzie Guillen, Rick Sutcliffe

1 a.m. ET on ESPN2/WatchESPN
Host: Jon Sciambi
Analysts: Rick Sutcliffe

THE "BASEBALL TONIGHT" TEAM