May, 11, 2013
May 11
1:21
PM ET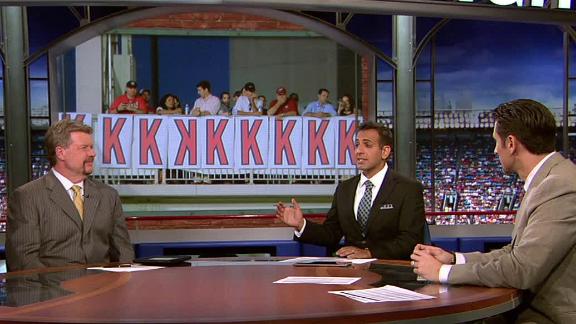 Strikeouts Up
If you've perused those box scores from Friday night and your head hasn't exploded yet, there's good news. Three Strikes is here to help you digest the amazing stuff that just happened on a baseball field near you!
Strike One -- K's on the Cobb
We can end the competition for Box Score Line of the Year right now. Let's just hand it to Alex Cobb, who spun off this line for the ages in the Rays' 6-3 win over San Diego on Friday:
4 2/3 IP, 5 H, 3 R, 3 ER, 2 BB, 13 K, 1 WP, 1 HBP, 1 balk
Want to attempt to digest that? Great. Let's do it.
• 13 strikeouts, 14 outs? The Elias Sports Bureau tells us that's never been done, in any other game ever played. And there's a good reason for that: It's almost impossible. The fewest innings anyone had ever pitched before this in a 13-strikeout game was five, by Zack Greinke this past Sept. 25.
• Of course, to be technical, Cobb did get two outs that weren't whiffs, given that one of his strikeout victims reached base on a wild pitch -- as part of one of the craziest innings in baseball history. Ready for the wacky details?
[+] Enlarge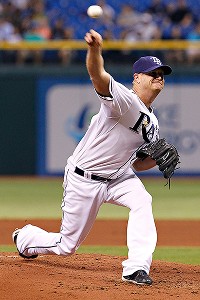 Kim Klement/USA TODAY Sports The Rays' Alex Cobb did the unthinkable Friday night, striking out 13 batters in 4 2/3 innings.
The third inning of this game went: Strikeout/wild pitch, steal of second, strikeout, steal of third, strikeout, run-scoring balk, strikeout.
Got that? According to Elias, it was the first inning ever played in the history of baseball in which a pitcher struck out every hitter he faced – and still gave up a run. Try that on your Xbox 360 some time.
• But wait. Let's think this through another way. As a bunch of our loyal tweeters put it, this guy just had an inning with no hits, no walks, no hit batters and four strikeouts – and he still gave up an earned run!
I asked Retrosheet founder Dave Smith to run that feat through his hard drive Saturday. His verdict, after checking every game since 1951: No pitcher in the Retrosheet files had ever pulled that off. The only other four-strikeout innings that produced an earned run all featured at least one hit.
• One more insane twist to this game: The Rays had had their starting pitcher go at least five innings in every game this season -- until this one. It's the second-longest streak to start a season in the 97 seasons for which those records are available. Then Alex Cobb broke that streak -- but set Tampa Bay's season high for strikeouts in a game -- on the same night. Hard to do, friends.
• Another amazing part of this game: Cobb threw 77 strikes (out of 117 pitches) and didn't even make it through the fifth inning. According to baseball-reference.com's fabulous Play Index, only one pitcher in the pitch-count era ever threw more strikes in any game without going five innings: Mark Gardner (81, in 4 2/3 IP and 122 pitches) on Aug. 18, 1996.
One huge difference between Gardner and Cobb, however: Gardner had 23 of those 81 strikes put in play. Cobb allowed only seven fair balls -- and still didn't get through the fifth.
• Cobb had nine strikeouts through three innings and 11 strikeouts through four. As SABR research genius Trent McCotter reports, both are record-tying feats.
Last AL pitcher to strike out nine in the first three innings: Ron Guidry, on May 10, 1986.
The only other AL pitchers known to have struck out 11 in the first four innings: Greinke in that September game and Nolan Ryan on April 8, 1978.
• Finally, I thought this list would be fun: Fewest outs in a game of X strikeouts:
Fewest outs in a game of 16 K's -- 20 (Randy Johnson, Sept. 27, 2001)
Fewest outs in a game of 15 K's -- 21 (last by Max Scherzer, May 20, 2012)
Fewest outs in a game of 14 K's -- 17 (Max Scherzer, May 30, 2010)
Fewest outs in a game of 13 K's -- 14 (Alex Cobb)
Fewest outs in a game of 11 K's -- 16 (Cole Hamels, July 24, 2006, & J.R. Richard, June 9, 1978)
Fewest outs in a game of 10 K's -- 13 (Bill Caudill, Aug. 17, 1979 & Norm Charlton, Sept. 14, 1989)
Fewest outs in a game of 9 K's -- 10 (Roy Halladay April 3, 2013)

Strike Two -- Near-Perfecto Night in America
Dazzling Cardinals rookie Shelby Miller didn't quite pitch a perfect game Friday night – but he did something that's even more rare:
He allowed a hit (a broken-bat hit, as a matter of fact) to the first hitter of the night -- then chewed through the final 27 hitters he faced.
So how about this: There have been 23 perfect games pitched in baseball history. But as loyal research whiz Trent McCotter reports, this was only the ninth known game in which a pitcher did what Miller did – allow the first batter of the night to reach base and retire the next 27. Here are the other eight:
Cy Young -- June 30, 1908
Bullet Joe Bush -- Aug. 26, 1916
Curt Simmons -- May 16, 1953
Robin Roberts -- May 13, 1954
Woodie Fryman -- July 1, 1966
Jim Bibby -- May 19, 1981
Jerry Reuss -- June 11, 1982
John Lackey -- July 7, 2006
• Young and Bush pitched no-hitters in which the first hitter reached. So Miller's was just the seventh game in which a leadoff hit stood in the way of a perfect game.
• Along the way, Miller struck out 13 of those final 27 hitters -- the most ever in a game like that. The only other double-figure strikeout games in that group: Lackey and Simmons whiffed 10 apiece.
• But of course, Jon Lester also came within one hit (in the seventh inning) of a perfect game Friday. And that made this the first day in baseball history, according to Elias, in which two pitchers threw complete-game shutouts of nine or more innings, featuring just one hit (or none) and zero walks. Very cool.
• Then again, those 28-batter complete games are rarities in themselves. This was only the third day in the expansion era in which two starters threw nine-inning complete games on the same day and each of them faced no more than one hitter over the minimum. The other two:
How 'bout that group? One set of living legends (Bob Gibson/Steve Carlton) -- and Odalis Perez/Shawn Estes. You've gotta love baseball!
• Finally, loyal tweeter Brian P. (@Turbo_Pig) wondered whether Miller is the first pitcher to rip off three starts (since his debut last season), this early in his career, of at least six innings and no more than one hit allowed. Here's what we found:
Miller is the only pitcher in the 97-season Play Index era to have three starts like that in the first 13 games of his career (just eight of them starts). But we found seven pitchers who have had two games like that. And it's quite a list:
Matt Harvey, Josh Beckett, Wally Bunker, Marvin Freeman, Chris Nabholz, Armando Galarraga and (of course) Cisco Carlos.
Strike Three -- In Other News
• You've gotta love Jose Altuve. He's 5-foot-5 – and he has batted third for the Astros in four games in a row. He's the first player whose listed height was that minimal to spend four straight games in the prestigious No. 3 hole since another 5-5 dynamo, Albie Pearson, did it for those 1958 Washington Senators on Sept. 9-10-11-12.
• Craig Kimbrel did something Tuesday that has happened in only one other game in history: He struck out the first two hitters in the ninth -- then gave up game-tying and game-winning home runs to the next two!
The only other game like it, according to the Sultan of Swat Stats, SABR home run historian David Vincent: May 22, 1964 (Twins-Orioles). Brooks Robinson and Boog Powell K'd for the first two outs. Then Sam Bowens and John Orsino hit the game-tying and game-winning homers -- off two different pitchers (Gerry Arrigo, Bill Fischer). Hey, of course, they did!
• Finally, Chase Utley and Ryan Howard joined one of history's coolest groups this week. According to the Sultan, they became the 14th set of teammates to homer in the same game at least 50 times. How about the other names in that club:
Hank Aaron/Eddie Mathews 75
Lou Gehrig/Babe Ruth 73
Willie Mays/Willie McCovey 68
Gil Hodges/Duke Snider 67
Ron Santo/Billy Williams 64
Bob Allison/Harmon Killebrew 61
Dwight Evans/Jim Rice 56
Joe Adcock/Eddie Mathews 56
Yogi Berra/Mickey Mantle 55
Jay Buhner/Ken Griffey 53
Orlando Cepeda/Willie Mays 50
April, 30, 2013
Apr 30
12:00
PM ET
Six things you need to know, whether you realized it or not, about that 19-inning classic between the A's and Angels in Oakland on Monday night:

Brandon Moss hit a home run in the sixth inning of this game. Then, about 13 innings -- and half a lifetime -- later, he fired a walk-off homer. Well, you don't see a guy do that every day. In fact, only six other men in history have ever gone at least 13 innings between home runs in any game.
The bad news: Had Moss waited just one more inning, he would have tied Vern Stephens' record for most innings between home runs, according to the Sultan of Swat Stats, SABR home run historian David Vincent. Hate when that happens.
Here's your list of all the guys before Moss who went at least 13 innings in between homers, courtesy of the Sultan:
[+] Enlarge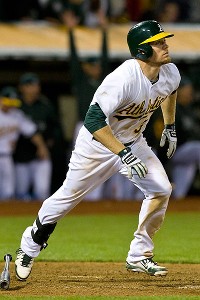 Jason O. Watson/Getty ImagesBrandon Moss' two-run home run in the bottom of the 19th on Monday that won the game for the A's was his second homer of the night.
14: Vern Stephens, Red Sox, May 30, 1951 (first and 15th)
13: Tony Oliva, Twins, Sept. 6, 1969 (third and 16th)
13: Ken Caminiti, Astros, Aug. 20, 1999 (third and 16th)
13: Placido Polanco, Tigers, Aug. 5, 2008 (first and 14th)
13: Garrett Jones, Pirates, July 17, 2009 (first and 14th)
13: Joey Votto, Reds, Aug. 28, 2011 (first and 14th)
Two related notes: (A) You'll notice that none of those other men had to wait around until the 19th to hit home run No. 2; and (B) Moss broke the Oakland record, held by none other than Reginald M. Jackson, who went 12 innings between trots on June 11, 1969.

The final score of this marathon was A's 10, Angels 8. So how often do you see at least 18 runs scored in a game that goes 19 innings (or longer)? Correct answer: Only three other times in the past 74 years. That's how often. Here they come:
May 1, 1991: Brewers 10, White Sox 9, in 19 innings
July 4, 1985: Mets 16, Braves 13, in 19 very famous innings
May 21, 1977: Padres 11, Expos 8, in 21 innings
And that's it, according to baseball-reference.com's fabulous Play Index. The only other times it happened in the 98-season Play Index era: May 17, 1939 (Dodgers-Cubs), and April 30, 1919 (Dodgers-Phillies). Both of those games ended in 9-9 ties, due to a lack of light bulbs.

There were a whooooollleee lot of pitches launched in this game -- 298 by the Angels, 299 by the A's. The last time both teams threw at least 298 in any game was that fabled 19-inning Pirates-Braves marathon on July 26, 2011 (Braves 306, Pirates 303).
Meanwhile in Miami, the Marlins and Mets also played a game Monday that featured more than 500 pitches. Last day to give us two games like that: Aug. 15, 2006 -- a Diamondbacks-Rockies game that went 18 innings and 514 pitches, and an Astros-Cubs game that went 18 innings and 542 pitches.

Brandon Moss is now the answer to this fun trivia question: "Who's the only active player with a 19th-inning walk-off?" In case you're wondering, Mike Cameron hit the last one, on Aug. 1, 2000.
But Moss is NOT the only active player with a home run in the 19th inning. Pedro Alvarez hit one in the top of the 19th on Aug. 19, 2012, in the most recent episode in the Pirates' now-annual tradition of yearly 19-inning tussles.

We know what you're thinking: How many players in history have hit a walk-off home run later in a game than Moss? Excellent question. And the answer is … three, says the Sultan. Fun trio:
May 8, 1984: Harold Baines, White Sox, 25th
Aug. 31, 1993: Pedro Munoz, Twins, 22nd
May 26, 1973: Dick Allen, White Sox, 21st
Moss joins a group of just four other men who have ended a game with a bomb in the 19th. Those four:
Aug. 1, 2000: Mike Cameron, Mariners
Aug. 10, 1972: Joe Rudi, A's
June 4, 1967: Andy Etchebarren, Orioles
June 14, 1963: Willie Kirkland, Indians
If Moss is looking for something to aspire to, no player has hit TWO home runs in the 19th inning or later, walk-off or otherwise. So that'll give him a noble goal to keep him going when the next extra-inning game comes along -- assuming he can stay awake.

One final late-breaking astounding fact, courtesy of Baseball Prospectus' Daniel Rathman:
Moss also became just the second player in the live-ball era to hit two home runs AND roll up a Golden Sombrero in the same game. The other: Evan Longoria on Aug. 4, 2009.
April, 30, 2013
Apr 30
10:38
AM ET
It was the kind of April only Al Roker and Jim Cantore could love.
Snowouts in Minnesota. Back-to-back rain-and-cold-outs in Cleveland. And we're not even going to get into Denver, where rumor has it the Rockies have ripped through more snow shovels than broken bats.
We've seen 18 postponements already, tied for the fourth most in any April since baseball began keeping track in 1986. So it's been a bigger month for the Doppler than it's been for, say, the Dodgers.
But this is not another story about the weather. OK, so the jet stream is off to a rougher start this season than Aaron Hicks. Nothing anyone can do about that.
What some people in baseball think might be fixable, though, is the schedule. Which -- in case you hadn't caught on -- has a completely different look than it's ever had.
Interleague play all season long. … An odd number of teams in all six divisions and both leagues. … More series than ever before involving teams making their only trip to that town.
It's created, well, issues.
And when glop falls out of the sky, 18 games don't get played as scheduled and the day-night doubleheaders start multiplying, uh, guess what? So do the complaints.
And Katy Feeney has heard them all.
"No matter what we do, nobody will ever be happy with the schedule," said Feeney, baseball's longtime scheduling guru. "They might find one little piece they like. But I don't think we've ever had a year where everyone's been happy with the schedule."
The funny thing is that this year's schedule format -- as forced by realignment -- was actually redesigned with the specific purpose of making people happier. And it has, in one area. At least teams can stop grumbling now about not playing the same interleague opponents as the other clubs in their division.
"This fixes that," Feeney said. "But that's about the only thing it fixes."
Right. Apparently. Other than that, the gripes just keep on coming. We've spent the past month compiling the complaints we've heard about this year's schedule. So here are the big ones -- with a look at just how "fixable" they are:
Why are we playing in (pick a city) Cleveland, Chicago, Minneapolis, Denver, etc. in April when we go there only once all year?
No scheduling question has come up more often -- or more loudly -- than this one. And there's an excellent reason for that:
Under the new format, other than the three visits a year that teams make to cities inside their divisions, no team visits any other club in its league more than once.
That's not a huge change in the National League. But in the American League, the number of one-time-in series has ballooned from 23 to 33 per team, Feeney says. That computes to a jump of 43 percent on our calculators.
What it means is, if the Yankees get rained out in Cleveland two days in a row (as they did), they have no choice but to make a special trip back to Cleveland, on what was supposed to be an off day. At home, naturally. Before this year, there was a much better chance they'd have been scheduled to play a second series in Cleveland later in the year. So those games could have been rescheduled then.
If that's the big issue, the solution would seem simple to those of us on the outside: Just don't send teams in April to places like Cleveland, where the weather is notoriously not so balmy, if they're not scheduled to return later in the year.
Voila. There you go. Problem solved. … Or is it?
"Maybe we could do some of that," Feeney said. "But it's never going to be perfect. With all the uneven numbers [of teams per division], you run out of times you can send people to San Diego."
Nevertheless, players have told us the union has requested that next April, schedule-makers should make a greater effort to load up on early-season division games, especially in meteorologically challenged cities. They're by far the easiest to make up.
There's also a Part Two to that April request: Schedule as many out-of-division, one-time-in series as possible in warm weather and domes.
So, for instance, instead of the Marlins traveling to Minneapolis to get blizzarded out, there would be an effort to send the Twins to Miami, minus their parkas.
Sure sounds logical. But Feeney's reaction: "It's easier said than done."
That was especially true this year, when schedule-makers had less time to address those sorts of issues than normal. Realignment took a long time to get approved, you'll recall. That was one problem. And New York requested that the All-Star Game be held a week later than usual, for logistical reasons. That was another problem. So the schedule had to be pushed through much more hastily than usual.
"The biggest problem of all," Feeney said, "is that it's not just April we're making a schedule for. We're making a schedule for six months."
Yeah, that's true. It just happens to be a lot warmer in those other months!
Has travel for West Coast teams gotten worse than ever?
The answer to that is: No doubt.
Here's a perfect example: With the addition of Houston to the AL West, 12 of the Angels' 13 road trips this season will take them to the Central and/or Eastern time zones, beginning with Opening Day in Cincinnati of all places. They don't visit the Astros and Rangers back-to-back (or vice versa) at any point. And there's only one time all season where the Angels will go directly from Oakland to Seattle (or vice versa).
By contrast, they made just nine trips to the CDT and/or EDT last season. And one of them was a quick three-day visit to Kansas City, in the midst of playing 16 home games in 21 days.
"We need more efficiency built into our schedule," said one AL West executive. "What we really need is more common sense built into our schedule."
Baseball sympathizes, Feeney says. Sincerely. But the options are limited.
"They're the ones with tough travel," Feeney said of those West Coast clubs. "They're far from their division opponents. We know that. But it's tough to cut down the mileage. And it's tough to make a schedule for one division."
One possible solution: More three-city trips, maybe even occasional four-city trips, to lump as much inconvenience into as compacted a time frame as possible. But those trips set off a bunch of complaining, too.
"I have no problem with three-city trips if they're all East Coast and it means longer homestands," said one NL West player. "Less trips east is definitely better. But [baseball] doesn't give us that schedule."
Instead, these are some of the trips we've seen West Coast teams make this month: New York-Colorado (Padres), New York-Colorado-San Francisco with no off days (Diamondbacks), Oakland-Chicago (Mariners).
And the inconvenience of those itineraries is compounded by night games on getaway days, followed by trips of nearly 2,000 miles. But that's a never-ending battle between business people and baseball people. And now more than ever, it's a fight the baseball people never seem to win.
We had a chance to blow up the whole schedule and finally get it right. This proves we blew that chance.
If ever there were an opportunity to splatter the schedule onto a blank canvas and start over, this would have been the year. Right?
New division structure. New league structure. New alignments. New interleague options. Imagine the possibilities.
"I don't think anyone ever looked at it and asked, 'What can be done?'" said one manager. "I think we could have crumpled up what we've done in the past and taken a whole new approach. We need to break down some of the old schedule rules and get it right, because the schedule now is more complicated than it's ever been in the history of baseball."
So what could have been done? How about fewer games, for one thing? Even paring a handful of games off the schedule creates a surprising amount of extra flexibility, not to mention a more humane pace for players.
One baseball official told us last year that going to 158 games was an option that was "seriously looked at" during the last round of labor negotiations. With all the money flowing into an $8 billion industry, you'd think that's a concept that might actually have had a shot to happen. Naaah. Too many teams balked at giving up two dates apiece.
Another option that was kicked around was an expansion of the interleague schedule to 30 games apiece. That would have broken down this way for each team:
Eighteen games against each division opponent (72).
Three games against each team in a designated interleague division (15).
Three games against each team in the "mirror" (East-East, West-West, Central-Central) interleague division (15).
Six games against each of the other 10 teams in your league (60).
That would have created more games in each team's time zone and, if we're applying this logic correctly, less oppressive travel. Unfortunately, Feeney said, the math doesn't work. All those three-game series, she said, "can't fit" inside a 26-week schedule.
There are other options, too, of course: more scheduled doubleheaders. Or fewer off days (but also less wiggle room) during the postseason. Or even starting series on Saturday or Sunday to help smooth out travel.
But every solution has a complication. Every move has a ripple effect. And every attempt to fix one team's mess creates a whole new mess for someone else. So as much as everyone wants to see a schedule that wouldn't feel this insane, this is still a constantly shifting jigsaw puzzle where pieces keep popping out all over the floor.
"With interleague and the number of teams we have right now, I don't think there's any such thing [as a schedule that would solve everyone's problems]," Feeney said. "I hear people talk about schedules in the past, and looking back, those schedules look wonderful. But the truth is, people complained then, too."
And you know what else is the truth? They always will.
April, 29, 2013
Apr 29
1:21
PM ET
Strike One: Tigers TrifeKta
When was the last time any team had a threesome atop its rotation like the K Klub the Detroit Tigers run out there these days?
There's the Ace (Justin Verlander). He owns three strikeout titles just since the start of the 2009 season. He's also whiffed more hitters over the last seven seasons (1,356) than any pitcher alive.
Sanchez
Scherzer
Verlander
Then there's Max Scherzer. Last year he became the fourth qualifying starting pitcher in American League history to strike out more than 11 hitters per nine innings over a full season. Maybe you've heard of the others: Nolan Ryan, Randy Johnson and Pedro Martinez.
So we start with those two -- the most prodigious 1-2 whiff-a-matic duo in baseball. Which leads to this momentous question:
What were the odds that a Tigers pitcher would go out this season and set an all-time franchise record for most strikeouts in one game -- and it WOULDN'T be Verlander or Scherzer?
Well, it happened Friday night, when Anibal Sanchez headed for the mound and punched out 17 Atlanta Braves in eight innings. Wow.
So what we have here is a rotation in which all three of those men are striking out more than a batter an inning this season:
Sanchez: 41 K's in 33.2 IP
Scherzer: 36 K's in 24 IP
Verlander: 33 K's in 32.1 IP
Amazing. But here's the most amazing part of all:
You know how many rotations in history have had three different starters pile up more than a strikeout an inning in a season in which all three qualified for the ERA title?
None. That's how many.
But wait. There's more. Other than last year's Tigers, no American League team in the entire division-play era has even had TWO qualifying starters who finished a season with more strikeouts than innings. Let alone three.
In fact, only two other AL teams in history have had two different starters who did that together in the same season:
1968 Indians: Sam McDowell (9.5 per 9 IP), Luis Tiant (9.2)
1965 Indians: Sam McDowell (10.7), Sonny Siebert (9.1)
Now obviously, there's a long, long way to go. But all three of these men have done this before. They just never had a chance to do it for the same team at the same time. And if they keep up this rate, we'll have some incredible strikeout history on our hands.
Unfortunately, for all the poor hitters out there.
Strike Two: Not So Special K's
Then there's the team that was on the other end of that 17-whiff masterpiece -- the Braves.
They keep telling us that strikeouts are overrated. And maybe they're right. We just know this:
[+] Enlarge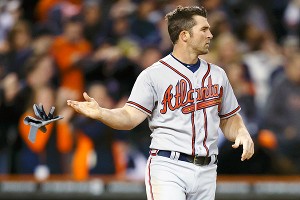 Rick Osentoski/USA TODAY SportsDan Uggla has struck out 31 times in 22 games so far this season.
They're on pace to strike out 1,512 times this year. While that wouldn't be a record -- thanks to the 2010 Diamondbacks, who punched out 1,529 times -- you should remember that no other team in history has ever struck out even 1,400 times.
But here's the other pace the Braves are on which WOULD be historic:
Projected strikeouts this season at this rate: 1,512
Projected hits this season at this rate: 1,316
That comes to an incredible 196 more strikeouts than hits. And no team in history has ever had a strikeout/hits ratio that was that out of whack. Here's that leaderboard:
163: 2010 Diamondbacks (1,529 K's, 1,366 hits)
89: 2012 Astros (1,365 K's, 1,276 hits)
72: 2012 A's (1,387 K's, 1,315 hits)
42: 2011 Padres (1,326 K's, 1,284 hits)
41: 2012 Pirates (1,354 K's, 1,313 hits)
Of course, if you peruse that list closely, you'll notice something. All of those teams have joined that More Strikeouts Than Hits Club just since 2010. And that's not an aberration. Of the nine teams in history that did more whiffing than hitting, only one (the 2001 Brewers) did it BEFORE 2010.
So strikeouts -- and lots of them -- are clearly a more prevalent, and accepted, part of the game than they've ever been. But only one team (last year's A's) has ever made the postseason in a year in which its hitters had more strikeouts than hits. And that 2010 Diamondbacks team at the top of that list lost 97 games.
It's very possible none of that past history applies to these Braves, who are clearly one of the most talented teams in the game and still lead the major leagues in home runs. But even if strikeouts are indeed overrated -- especially if you hit enough homers and score enough runs -- we don't know yet exactly how overrated they are.
But the 2013 Braves look like a team that could spend the next five months helping us figure it out.
Strike Three: In Other News …
• Verlander, Scherzer and Sanchez give the Tigers three starters who have all struck out at least 14 hitters in a game. The only other rotation in the big leagues that can make that claim: the Phillies (Roy Halladay, Cliff Lee, Cole Hamels).
• But all three of those Tigers pitchers have whiffed at least 14 in a game more than once. According to the Elias Sports Bureau, only four rotations in the last 20 seasons had three starters who fit that description. And it had been 12 years since we'd seen any rotation like that -- since the 2001 Diamondbacks (Randy Johnson, Curt Schilling, Bobby Witt) and 2001 Red Sox (Pedro Martinez, Hideo Nomo, David Cone).
• The Dodgers haven't struck out 17 times in a nine-inning game in the history of their franchise -- all 130 seasons worth. And three other teams -- the Royals, White Sox and Twins -- haven't struck out 17 times in any game in this millennium. But the Braves struck out 17 times in eight innings against Anibal Sanchez. And then added an 18th whiff in the ninth against reliever Bruce Rondon.
• Bryce Harper hit his ninth homer Saturday. He's the first player, 20 or younger, ever to hit nine home runs in April. If he makes a home run trot in any of the next two games, he'll become the fifth player in history to hit 10 home runs in any calendar month, at age 20 or younger. The others, according to Baseball-Reference.com's awesome Play Index: Willie Mays (10, in July 1951), Frank Robinson (11, in August 1956), Met Ott (11, in June 1929) and someone named Mike Trout (10, last July).
• Finally, we keep hearing that David Ortiz has a 20-game hitting streak going back to last season. What's much more notable is that he also has a 301-DAY hitting streak. Ortiz's streak dates all the way back to last July 2. And our favorite hit-streak guru, Trent McCotter, reports that, as best he can determine, that's the second-longest 20-game streak -- in days -- since 1900.
The longest: 323 days, by Nomar Garciaparra in 2000-01. He got a hit in his last 20 games in 2000, then needed wrist surgery the next spring and didn't get a chance to pick up his streak until the following July 29, when he extended it to 21 games in a row before it expired the next game.
Longest known hitting streak before 1900 (in days): 645 days, by Dick Higham from 1876 to '78. But the asterisk is that he spent all of 1877 with the Syracuse Stars of the International Association, which wasn't recognized as a "major" league. So technically, he had a 29-game hitting streak that was stretched out over nearly three years. Boy, it's always something, huh?
April, 25, 2013
Apr 25
10:42
AM ET
It's now official. Jean Segura has "stolen" first base for the last time.
And so, for that matter, has everyone else.
This is it, friends -- the third and final episode of our Jean Segura baserunning trilogy, soon not to be made into a major motion picture.
Major League Baseball's baseball operations department has sent out what was described to us as a "clarification" memo to all its umpires. The gist of it is that, in the future, baserunning adventures like Segura's now-legendary backwards trip around the infield last Friday should end with a slightly different outcome than his did.
By which we mean: He should have been called out!
Never saw that coming. Did you?
Well, you did if you were reading this blog Sunday afternoon. We kind of foreshadowed it here then. But let's recap.
It was Friday night. The Brewers shortstop had just stolen second base. Then, with runners on first and second, he took off to try to steal third, wound up in a rundown and somehow, finally, when the dust had settled, found himself all the way back on first. (For more of the wacky details, you might want to click here.)
Impossible, you say? Well, that's not what the umpires said at the time.
They cited an addendum to ever-popular MLB rule 7:08(i), which appears to allow a runner who has been decoyed or become otherwise confused to scramble all the way back to first, even if he has already passed second.
Oops. Wrong rule.
We all know that now, and so do the umpires. The clarification tells them that not just one other rule, but two, should have superseded that one. And both of those rules would have led to the same outcome.
By which we mean again (let's all sing it together): OUT.
Those two rules are these:
• Rule 7:01 says a runner can't settle in at one base and then return to a previous base once the pitcher "assumes his pitching position." In other words, a runner on second can't go back to first for any reason once the pitcher has thrown a pitch -- let alone several, as happened in Segura's case.
• Then there's Rule 7:08(a), which includes a specific comment about a fellow like Segura, who thought he was out, was on his way to the dugout, then found out he was safe and pulled into first for safekeeping. That comment reads like this:
"Any runner after reaching first base who leaves the base path heading for his dugout or his position believing that there is no further play, may be declared out if the umpire judges the act of the runner to be considered abandoning his efforts to run the bases."
So what's that mean? It means, in Segura's case, he should have been called out because he "abandoned his effort" to keep running the bases when he left second base "and started towards the first base line."
All righty then. Got all that? Sure hope so. There's going to be a quiz.
But at least we'll also get another quiz out of this circus that goes like this:
Who's the only player in the past 60 years to steal a base and get thrown out stealing the same base in a span of five pitches?
The answer to that one is Jean Segura, of course. But it sure is a good thing he didn't go on to steal second twice and then score the winning run. Right?
If he had, we're guessing we'd have a lot more than a memo of clarification on our hands.
April, 21, 2013
Apr 21
4:02
PM ET
Just when you thought you'd heard the last of
Jean Segura
's excellent
baserunning adventure from Friday night
, this just in:
It's getting even more confusing!
Remember all that talk about how, as crazy as it sounded, the umpires made the right ruling when they allowed the Brewers' ever-energetic shortstop to "steal" first base?
[+] Enlarge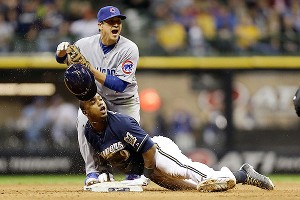 Mike McGinnis/Getty ImagesJean Segura's adventure on the basepaths on Friday night against the Cubs was quite entertaining.
Uh, now we're not so sure of that anymore.
I got a call Sunday from a friend of mine, whom I could best describe as a guy who has spent way more time than most of us studying the baseball rule book.
His adamant take on this was: There's no way Segura ever should have been allowed to go back to first base after he'd already made it to second base.
No. Way.
And why is that? Rule 7:01 is why.
Ah, good old Rule 7:01. Forgot about that one, didn't you?
So what's so interesting about the introduction of Rule 7:01 into this fun debate? Glad you asked.
It's interesting because that isn't the rule the umpiring crew originally applied Friday when Segura broke off second to try to steal third, got caught in a rundown, and eventually rambled all the way back to first. (For more of the details, feel free to click on Saturday's blog-a-thon on that topic.)
The rule the umpires cited at the time was an addendum to 7:08(i), which allows runners to return to a previous base in instances where they've been faked out by the fielders or weren't sure whether a ball was caught or trapped. That sort of thing.
I've read that rule a bunch of times. It looks to me as if there's a logical case to be made for what that rule applies to this crazy play.
But here's why it isn't, according to my friend:
The rule he pointed out -- 7:01 -- clearly says that once the next pitch is thrown, or, to be technical, once the pitcher "assumes his pitching position" after the runner has safely reached any base, that runner "may not return to a previously occupied base."
Period. End of story.
So if you apply that rule literally, once Segura stole second earlier in the inning, there weren't any circumstances -- A-N-Y -- that would allow him to go back to first.
That other rule -- 7:08(i) -- is only supposed to be used on continuous plays, my friend contended. This would be an example:
A runner is on first base. He is running with the pitch. He pulls into second -- maybe even rounds second -- and then realizes he has to get back to first. Rule 7:08(i) would allow that -- even if he gets stuck in a rundown between second and third along the way.
But that rule was never meant to apply to two different plays, he said. So once Segura found himself in his own rundown between second and third, second base was as far in reverse as he should have been allowed to travel.
Got that?
Major League Baseball isn't done sorting out this play, from what I understand. It's still trying to figure out how to score it, compute it and explain to its computers how a runner on second base wound up back on first base three pitches later.
So now here's one more thing the proper authorities can look into:
Would a different reading of the rule book have turned that whole madcap sequence of events into one gigantic (but highly entertaining) moot point?
I don't know the answer myself anymore. But I'll keep checking, because, clearly, I'm obsessed with Jean Segura-palooza. So all I can tell you is: Stay tuned. We may not have heard the last of this. Still.
April, 20, 2013
Apr 20
2:41
PM ET
I think we just found baseball's version of Leon Lett.
I'm talking about Brewers shortstop Jean Segura, who, like the mixed-up grandma who made a U-turn on a one-way street, performed an act of baserunning madness Friday that he'll be seeing, on scoreboard video-screen blooper reels, for the rest of his life.
To even try to describe this adventure is almost as challenging as actually doing it. And all the jumbled online play-by-play accounts out there are living proof.
But here's the simplest way to sum it up:
This guy stole second. Then he tried to steal third but somehow wound up on first. Then he got thrown out trying to steal second again. All in a span of five pitches.
Just try that on your PlayStation sometime. Excellent chance smoke starts pouring out of it within seconds.
[+] Enlarge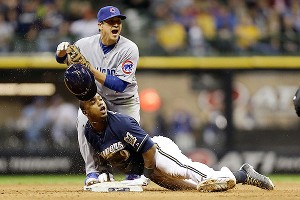 Mike McGinnis/Getty Images Jean Segura stole second base in the eighth inning Friday night against the Cubs, but the Brewers' shortstop wouldn't stay there for long.
"Bizarre," umpire Tom Hallion told Brewers.com's Adam McCalvy. "Technically, he stole second, stole first then got thrown out stealing second."
Well, "technically" he didn't, because that's impossible. Here's what actually happened:
On a 2-2 pitch to Ryan Braun in the eighth inning of the Brewers' 5-4 win over the Cubs, Segura stole second. On the next pitch, Braun walked. So far, pretty standard stuff. But not for long.
Three pitches after that, Segura broke for third. But his first mistake was that he forgot to wait until pitcher Shawn Camp actually delivered the ball.
Camp whirled and got Segura hung up between second and third. That led Braun to follow Baseball 101 protocol and roar into second base. Which was proper and cool -- until Segura scrambled back to the bag to join him.
The Cubs started tagging everyone in the vicinity, and the rules say it was Braun who was out. But that was news to Segura, who thought he was the one who was out. So he started trotting toward the dugout.
Along the way, though, he got the memo that he wasn't out after all. So he pulled back into first base. And first-base coach Garth Iorg wouldn't let him leave.
Not until two pitches later, anyway -- when Segura burst toward second again and, in Take 2, was thrown out.
So there you have it -- a man who stole second and was caught stealing second in the same inning.
Without his team batting around.
Spiced up by a whole lot of mad sprinting around the infield in between.
"If I was him, I would've stole again too," Cubs second baseman Darwin Barney told MLB.com's Carrie Muskat. "I don't think anyone has ever stole second twice in the same inning in the same at-bat. That would've been history there. Luckily for us, that didn't happen."
But whatever happened, this goofy baserunning extravaganza raises lots and lots of questions. Let's try to answer them as best we can.
Was this actually legal?
The answer, amazingly, is yes.
"Some people are saying he violated the rules by running the bases backward, but he really didn't," said Retrosheet founder Dave Smith.
Incredibly, that's true. Yes, there is a rule in the books -- good old Rule 7:08(i) -- that prohibits runners from running the bases backward "for the purpose of confusing the defense or making a travesty of the game."
But there's an addendum to that rule that separates Segura's brand of travesty from players who are intentionally riding in reverse. That addendum allows runners who innocently get decoyed or confused to run in pretty much any direction, at their own risk. You can check it out here.
So that's Jean Segura. Even he wasn't sure how he wound up on first. He sure didn't mean to find himself back there. So he's covered.
"What's unbelievable," Smith said, "is that very few major league players know the rule or know what they're supposed to do if two guys wind up on the same base. If I were a coach, I'd say, 'Stand on that base until the umpire picks you up and tells you you're out.'"
How the heck do you score that?
This is almost a trick question. The stolen base of second -- that's easy. The rest? Good luck.
[+] Enlarge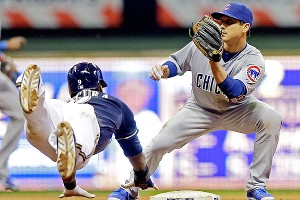 AP Photo/Morry GashAfter a mad dash that somehow brought him back to first base, Segura was unsuccessful in his second attempt at stealing second.
The part where a runner on second base finishes the next play on first base? It's not possible to score that without crashing every computer in America.
"There's no way to do that," longtime official scorer and SABR historian David Vincent said Saturday. "Not covered in the rules. A runner on second base going to first base? That's impossible."
Now obviously it's not "impossible," because it really happened. But tell that to the computer programmers of America.
"All the computer software -- none of it will handle that," Vincent said. "You don't run the bases [from] second to first. Any software that processes play-by-play won't accept that."
So because it's theoretically impossible, the official box score of this game listed Segura as having been thrown out stealing third -- even though he slid into second. Huh?
"That's because the play-by-play listed him as staying at second base [because it couldn't compute that he was actually on first]," Vincent said. "So then he had to be caught stealing third. But that never happened. So that has to get changed."
Right. But that's not all. The official box score and play-by-play also said that Braun got caught stealing second.
"That's not right either," Vincent said. "He was just out trying to advance to second base on a play being made on somebody else. So I'm pretty sure that has to get changed too."
Amazing the havoc one madcap baserunner can wreak on this sport, isn't it? But that is why we love it.
Has this ever happened before?
Sorry. Can't answer that one. Not yet. But we're working on it.
There is lots of precedent for a player stealing a base and getting thrown out stealing the same base in the same inning, Smith said. But normally his team bats around in between.
Having it all happen in a span of five pitches? Good chance that's never happened. I'll keep you posted.
Closest goofy parallel I could find -- three years ago, Michael Bourn pulled off this goofy daily double: On back-to-back pitches, he stole third base, after getting caught stealing third base.
How? Like Segura, he got caught in a rundown between second and third. Except he got back to second thanks to a dropped throw. On the next pitch, he took off for third again and made it. So it was scored "Caught Stealing - E1" and then "SB."
That, according to the Elias Sports Bureau, was the last instance of a player stealing a base and getting caught stealing the same base in the same inning. At the time, I thought that was the wildest base-stealing adventure I'd ever run across.
But along came Jean Segura, the baseball equivalent of the clock that ticked counter-clockwise. And he's now carved out a category totally unto himself.
Segura's Excellent Adventure, Part II
Welcome back to the Jean Segura Baserunning Camp. Told you we weren't done.
With the help of Dave Smith and his fabulous Retrosheet files, we've finally, officially, determined that this man has pulled off a feat every bit as unique as we thought it was.
Ready for the awesome details? Here we go.
We checked every game played in the last 63 seasons (from 1951 on) and found six other players who stole a base and got caught stealing the same base in the same inning. But guess what? Nobody did what Segura did.
Of course they didn't. How could they?
The bat-around crowd: Two guys pulled this off because their teams batted around between the SB and the CS …
•
Damion Easley
(Tigers), Aug. 10, 1996 (second base)
• Gary Redus (Reds), June 2, 1985 (second base)
Fun feat. But not Segura-esque fun.
The E for effort crowd: Four others were caught stealing and later stole the same base in the same inning, without a bat-around. But there were two big differences between what they did and what Segura did: A) Those four were "caught," but they weren't actually "out" because they all got back to their original base on an error. And B) they sure as heck didn't get into position to try it again because they went from third to first. Only one man in modern times was that innovative. But we don't want to overlook that other foursome. Here they are:
• Michael Bourn (Astros), Aug. 10, 2011 (third base)
• Jerry Hairston Jr. (Reds), May 17, 2008 (second base)
• Carlos Beltran (Royals), May 7, 2004 (second base)
• Reggie Sanders (Reds), Aug. 20, 1996 (second base)
The man who stole first base
We should mention that, once upon a time, unbeknownst to Segura, it was actually legal to steal first base. Even if you were standing on second base at the time. According to the Hall of Fame, only two men in history are known to have done it.
One was Fred Tenney of the old Boston Beaneaters. According to an old ESPN The Magazine blurb, he did it "around 1900." Hey, close enough.
The other was the legendary Germany Schaefer of the Tigers. In a famous game on Sept. 4, 1908, the Tigers had runners on first and third, with Schaefer on first. Their this-trick-never-fails strategy was to have Schaefer break for second, draw a throw and allow the runner to score from third.
So off he went. No throw. Undaunted, he took off back to first. Still no throw. You know what happened next? He broke for second again. Still no throw. So he stole the same base twice. In one at-bat. Top that, Jean Segura!
Schaefer's antics inspired two developments: A) A book by the great Eric Nadel titled "The Man Who Stole First Base," and B) the aforementioned "travesty of the game rule," which basically bans runners from stealing first -- unless they get as bamboozled as Segura. In which case, the rule is titled "Aw, What The Heck."
What it means
Finally, one more question I know you all had: Is it possible this amazing feat could change baseball in any meaningful way?
I ran that one past former Brewers third-base coach Rich Donnelly. He had the perfect plan:
Once a year, he proposed, baseball should liven things up by having everybody run the bases backward. Hitters would run to third instead of first. And then they'd just keep going, left to right instead of right to left. Hmm, why not?
"What the heck difference would it make?" asked Donnelly, now the manager of the Mets' Brooklyn Cyclones minor league team. "They're still going to wind up in the same place, right?
"Who said that when you hit the ball you have to go to first? Abner Doubleday? No, he didn't. The important thing is you have to get home.
"It's like when we were teenagers," Donnelly concluded. "All your parents said was 'You have to be home.' They didn't say which way you had to go, did they?"
Well, no they didn't, as a matter of fact. So see what Segura started? Pretty soon, this whole sport will be turned upside down.
April, 18, 2013
Apr 18
2:52
PM ET
Do we take greatness for granted? Sometimes, I think we do. Here are three men in this game who are so good, we need to stop and appreciate what we're watching -- especially because two of them are birthday boys:
Strike one: Miggy turns 30
Miguel Cabrera will celebrate birthday No. 30 on Thursday, as my friend, John Lowe, of the Detroit Free Press, reminds us. Wow. 'Bout time, huh?
I know the guy has won an MVP award, already racked up six top-five MVP finishes, made seven All-Star teams and won a Triple Crown. But has it really sunk in, for most of us, how incredible a hitter Miguel Cabrera has been at such a young age?
[+] Enlarge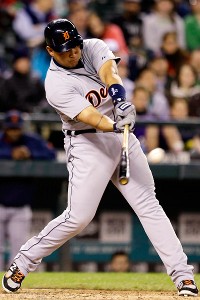 AP Photo/Elaine ThompsonMiguel Cabrera is going for a third consecutive AL batting title.
John Lowe compares Miggy to Hank Aaron at the same age. Excellent company. But here's what's even more special:
Very, very, very few hitters who ever lived are in that company.
You want the complete list of hitters who had 300-plus homers and a slash line as good as Cabrera's (.318/.395/.560) on the day they exited their 20s? Here it comes:
• Jimmie Foxx .334/.434/.628/379 HR
• Albert Pujols .334/.427/.628/366 HR
And that's it. That's the entire list.
Aaron (thanks to a .375 OBP) was actually a just-miss. So were Mel Ott (.315 AVG), Vlad Guerrero (.390 OBP) and some dude named Babe Ruth (284 HR). Mickey Mantle, Willie Mays and Alex Rodriguez were just beyond that pack. But you get the idea.
We're not just talking about good players. Or very good players. We're talking about iconic players. And Miguel Cabrera is one of them. More on Miggy:
• He's one of only 11 players who ever lived who hit this many homers before turning 30. The others: A-Rod, Ken Griffey Jr., Foxx, Mantle, Eddie Mathews, Pujols, Ott, Aaron and (of course) Andruw Jones.
• His 725 extra-base hits are the eighth most all time before age 30. The seven players ahead of him: A-Rod, Foxx, Griffey, Aaron, Pujols, Ott and Lou Gehrig.
• He's one of just six men in history with 1,800 hits and an average this high on the day he turned 30. The others: Ty Cobb, Rogers Hornsby, Aaron, Foxx and Joe Medwick.
• And he's one of only five players in history with 1,800 hits and an OPS this high (.955) on the day he turned 30. The others: Ott, Hornsby, A-Rod and Foxx.
I don't know where Miguel Cabrera is headed in his 30s and beyond. But if he's headed for statistical plateaus anywhere near where the other men on those lists wound up, we know one place he's headed:
Cooperstown, N.Y.
Strike two: Mauer power
Speaking of birthday boys … somewhere along the line, Joe Mauer (who turns 30 on Friday) seems like a guy who has mysteriously faded off most people's radar screens -- or, at least, off their list of the best hitters alive.
But he's reminding us these days that if you're one of those folks who decided he was a bust, based on one sub-Mauer-esque season at Target Field a couple of years back, it's time to take another look.

Mauer
The Twins' sweet-swinging catcher has just finished ripping off back-to-back four-hit games this week. Here's some stuff you might want to know about that -- and about him:
• Only 10 other catchers in the past 75 years have had back-to-back four-hit games. Just 18 other catchers have done it in the live ball era. Here's the difference between Joe Mauer and all the rest of them: He's the only one who has done that twice. (He also did it on June 26-27, 2006.)
• Among the catchers who never had back-to-back four-hit games: Johnny Bench, Yogi Berra, Mike Piazza, Bill Dickey, Gary Carter, Gabby Hartnett or Mickey Cochrane. All but Piazza are Hall of Famers, by the way.
• Mauer hasn't played a single game in his 30s yet. But he already has more games (19) with four hits or more in his young career than Bench (12), Berra (14), Carlton Fisk (14), Jorge Posada (17) and all but eight catchers in the live ball era had in their entire careers.
• Just for future reference, in case Mauer can get four more hits Friday, you should know that only one American Leaguer in the past 60 seasons has ripped off three straight games with four or more hits. That was Tim Salmon, on May 10-13, 1994.
• Oh, and one more thing. Just to remind you of what an aberration Mauer's 2011 season was, since Opening Day 2012, he leads the American League (and, for that matter, all hitters not named Joey Votto) in on-base percentage (.416). And the only AL hitter with a higher batting average than him (.326) in that span is -- who else? -- Miguel Cabrera (.329).
So it's safe to say Joe Mauer didn't just remember how to hit again on Monday at 7 p.m. Recalibrate your radar screens. OK?
Strike three: K for Kershaw
Clayton Kershaw struck out the 1,000th hitter of his career Wednesday night. He's 25 years old. He's younger than Colin Kaepernick, friends. Heck, he's younger than Snooki.
So how rare is it to reach 1,000 whiffs this fast? This rare:
[+] Enlarge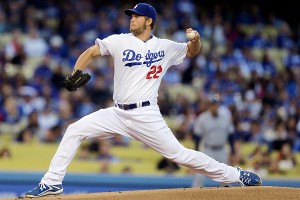 AP Photo/Reed SaxonClayton Kershaw has topped 200 strikeouts in each of the past three seasons.
• Only 15 other pitchers in the history of baseball got to 1,000 strikeouts before they celebrated their 26th birthday. Just one of them is an active pitcher. That would be Felix Hernandez.
• Besides those two, just four others have reached 1,000 K's that young in the division-play era: Dwight Gooden, Fernando Valenzuela, Bert Blyleven and Frank Tanana. Fun list.
• But now here's where this gets good: Of all the pitchers in history who reached 1,000 punchouts by age 25, only one did it in fewer trips to the mound than Kershaw (155). That was Gooden, who made it in only 145 appearances.
• And now, finally, let's take age out of this equation. In the history of baseball, just six pitchers have ever reached 1,000 strikeouts in fewer games than Clayton Kershaw. It's an excellent group:
Kerry Wood, Tim Lincecum, Roger Clemens, Gooden, Hideo Nomo and Randy Johnson.
That would mean, of course, that Nolan Ryan, Justin Verlander, Tom Seaver, Steve Carlton, Pedro Martinez, Bob Feller, Walter Johnson and, well, pretty much the entire rest of the planet didn't rack up those whiffs the way Clayton Kershaw has, right out of the gate in his young career.
So does this guy's last name start with the right letter, or what?
April, 9, 2013
Apr 9
12:44
PM ET
According to Kmart.com, there are no longer any Kmarts in the entire Houston metropolitan area.
Hey, that's funny. Our ESPN.com stats page begs to differ.
That stats page tells us the Houston Astros have spent this season erecting the kind of Kmart superstore never before witnessed in this great sport of ours. And let's just say it has captured our attention.
At their current rate, the Astros are going to strike out almost 1,900 times this year, friends. And yessir, I said 1,900.
Yeah, I know that's after only seven games. Yeah, I know that's (all together now) "a small sample." Yeah, yeah. I know this can't possibly be sustainable. Uh, I think.
But when I mentioned to a scout friend, on Tuesday morning, that the Astros were on this crazy pace to whiff 1,900 times, his first reaction wasn't to tell me: "Calm down, man. It's only seven games."
His first reaction was "I think they have a very good chance of doing that."
[+] Enlarge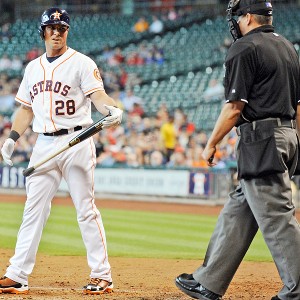 AP Photo/Pat SullivanHouston's Rick Ankiel has a dozen strikeouts in 14 plate appearances this season.
OK, no they don't. They can't. Possibly. Do. That. Can they?
Only one team in baseball -- the 2010 Diamondbacks -- has ever struck out 1,400 times in a season. At this rate, the Astros are going to blow by the 1,400-K mark by Aug. 14.
So I'm confident. That's. Not. Going. To. Happen.
But even if we confine this discussion to what's already happened, the Astros' strikeout rate boggles the mind. Totally. Ready? Here we go:
• The Astros have already whiffed at least 13 times in five of their first seven games. Meanwhile, across the beautiful state of Texas, the Rangers have whiffed 13 times (or more) in five games -- in the last three years (almost). Exact count: five times in their last 470 games, dating back to April 30, 2010.
• At one point this weekend, the Astros were averaging 14 strikeouts a game. Meanwhile, the Dodgers hadn't struck out 14 times in any game in their last 344 games (also dating back to 2010).
• As armchair historian Jeff Sullivan (@based_ball) pointed out on Twitter last night, Tony Gwynn once struck out just 86 times in five years (covering 2,653 plate appearances). The Astros have already struck out 82 times this season in a mere seven games (covering 239 plate appearances).
• As folks on Twitter keep observing, watching the Astros this year is like watching a lineup of nine Mark Reynolds. But in fact, that's not quite true. When Reynolds set the all-time strikeout record of 223 in 2009, he punched out in an incredible 32.5 percent of his trips to the plate. But the 2013 Astros are somehow whiffing at a higher rate than that (34.3 percent) as a team. Ought to be impossible. Shouldn't it?
• Once upon a time, Enos Cabell's 1976 Astros struck out 719 times during an entire season. At this clip, this year's Astros are going to blow by that team's total on June 7.
• Finally, only four players in the American League have struck out 12 times already. But guess what? Three of them are Astros: Brett Wallace (13 times in 17 at-bats), Chris Carter (13 times in 26 at-bats) and Rick Ankiel (12 times in 13 at-bats since his Opening Day pinch homer). As our friend Dave Cameron of FanGraphs tweeted last night, these are Ankiel's 13 plate appearances since that homer: K, K, K, lineout, K, K, K, K, K, K, K, K, K. Not a good trend.
OK, now that I've got all that out of the way, let's put this in a different perspective:
As Buster Olney and I discussed on today's Baseball Tonight podcast, we don't mention these things because we have any sort of anti-Astros agenda or because we're looking to demean or make fun of anyone.
We mention these things for one reason: Because they're unprecedented.
When stuff happens in baseball that has never happened before -- in 138 seasons -- we're supposed to pay attention. That's what we do for a living.
We both have a lot of respect for the people running this team, and we recognize what they're trying to build and how they're trying to build it. But between now and when the Astros get good, one thing is pretty clear:
They're going to construct a Kmart of epic proportions.
In other news …
• The Astros don't have the only lineup that is off to a start we could describe as historically grim. How 'bout those Pirates? Through seven games, they're batting .126 -- as a team. Checked with the Elias Sports Bureau and learned this:
How many other clubs since 1900 have had a team average that low through their first seven games? Not a one. Not in the dead-ball era. Not in the live-ball era. Not in the Bob Gibson 1.12 ERA era. Or any other era.
The previous low: .144, by Whitey Alperman's 1907 Brooklyn Dodgers and Shane Halter's 2003 Tigers.
• On Sunday, the two reigning Cy Youngs -- David Price and R.A. Dickey -- each started games that their teams lost 13-zip. This caused loyal reader Evan Jones to ask if two Cy Youngs had ever started games that turned into losses that lopsided on the same day. The answer is amazing.
Not only had that never happened to two Cy Youngs on the same day before, according to Elias. It had happened only once in the history of the Cy Young Award. That was July 26, 2010, when Zack Greinke started for the Royals against the Twins and his team wound up losing 19-1.
• More on that crazy outbreak of 13-0 games: SweetSpot blogger Diane Firstman (@dianagram) reports that there had been only two days in history that featured two shutouts that lopsided: June 9, 1915 (Tigers over Red Sox 15-0 and White Sox over Yankees 13-0) and Aug. 8 of last season (Giants over Cardinals 15-0 and Marlins over Mets 13-0).
• Finally, yet one more related tidbit: In his first two starts this season, Justin Masterson beat both incumbent Cy Youngs, out-twirling Dickey in his first start and Price in his second. So how many other pitchers had ever done that in their first two starts of any season? That would be zero. In fact, just two pitchers had ever beaten both defending Cy Youngs at any point in the same season before (Bruce Hurst in 1989, Shane Reynolds in 2003), according to Elias.
But that's not all. Before those two starts, Masterson had made only one start in his whole career in which he defeated a pitcher who had ever won a Cy Young (last May 24, against Justin Verlander). So let's see now. That came to one win like that in his previous 121 starts (and 39 wins). And then two in a row. Of course!
It was one of the strangest pitching lines of all time.
Nine strikeouts -- out of 10 outs.
But …
Then there were those 10 hitters who didn't strike out. Wow. Those 10 combined for -- fasten your seat belt now -- a batting average of .857 (6-for-7).
And an on-base percentage of -- ready for this? -- .900 (with nine of the 10 reaching base).
Not to mention two home runs.
And 95 pitches in 3 1/3 innings, by a man who once threw an 83-pitch complete game.
That was how Roy Halladay spent his evening Wednesday in Atlanta, in his first start of 2013. It was a bizarre night on the mound, all right. But now let's try to figure out what it means.
[+] Enlarge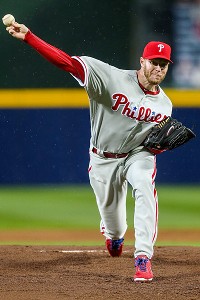 Daniel Shirey/Getty ImagesRoy Halladay's pitching line against the Braves: 3.1 IP, 6 H, 5 ER, 3 BB, 9 K, 95 pitches (55 strikes).
I spoke Thursday morning with a scout who was in attendance. Twelve hours later, he was still having a tough time digesting it.
"If you didn't know it was Roy Halladay out there," he said, "you would say, 'This guy looks like a journeyman.'"
A journeyman. For more than a decade, that would have been the last word anyone ever would have attached to a description of Roy Halladay. But now he finds himself a few weeks from his 36th birthday with more than 33,000 pitches on the odometer. And all of a sudden, the same scout said, "he looks like a guy who doesn't have a whole lot left in his tank."
"I didn't see anything alarming," the scout went on. "Nothing where you'd say he's doing this or doing that, and that's what was wrong. I just think he's thrown a lot of pitches over the years. He's always kept himself in great shape, so it isn't that. But you've only got so many throws in that arm."
It was a sobering way to look at it, all right -- but one shared by scouts I've surveyed about Halladay all spring. But for the sake of breaking down this outing further, I asked the same scout to dissect various aspects of Halladay's performance:
• What all those strikeouts (9) say: "The strikeouts are a little bit deceiving. Those hitters could do just about whatever they wanted with him, really. They weren't overmatched. It wasn't like that. The Braves are going to swing and miss a lot. …
"I know he struck out five in a row at one point. But you've got to look at who it was. He was picking on [Evan] Gattis, who was in his first game in the big leagues. Then the pitcher. Then [Andrelton] Simmons. Those guys will swing and miss. And B.J. Upton went 0-for-4, with four punchouts, so obviously, he wasn't swinging real good.
"I'm just saying, that's not the way he pitched when he was in his prime. The difference is, before, when he needed a strikeout he could go get it. Now he can't do that. Not against a really good hitter."
• What all those hits (6) say: "Historically, this was a guy who always got quick outs. I've seen him go 85 to 90 pitches in nine innings. So to see him throw 95 in 3 1/3, that just tells you he's not right. Normally, he'd just pound the strike zone: Here comes strike one, and everybody knows it. Now, the hitters smell blood. And they just wait him out 'til they get what they want. … It's like when sharks smell blood. This guy has dominated them for so long, it's like they're saying, 'Now's our time to get some payback.'"
• On Halladay saying he needs to be more aggressive: Asked if Halladay has the stuff anymore to challenge hitters early in counts, the scout replied: "Based on what I saw last night, that answer is no. Hey, now if next start, he's 92-94 [miles per hour], with life? Then yeah. But not at 88-90, with no life. He basically tricked them into getting those punchouts."
• On Halladay saying he needs to get more ground balls early in the count: "That's the way he used to pitch. But to do that, you've got to get strike one. And that means [hard sinkers with] movement. But last night, his movement was mostly side-to-side."
And now comes the biggest question of all:
Is it possible Halladay is done? "Well, it's going to be a struggle. He's got to reinvent himself. And that's going to take a while. But I don't think he's done. I wouldn't go that far. Anyone who thinks this guy is a top-of-the-rotation guy now is not being realistic. And when I say top of the rotation, I mean a [No.] 1 or 2. He's not that. He's more like a [No.] 4 for me now. But that doesn't mean he's done. …
"I think that because the competitiveness will always be there. But before, he could just out-stuff you. Now he's at the point, I don't think he can do that anymore. Now he's got to depend on location and command. It's going to be interesting to see if he can do that. He's been a warrior for a long time. But this is just the aging process, man, taking its toll. It happens to everybody. Everyone has that day. And I think his day is approaching very quickly."
So how bizarre was this game? Check out these crazy tidbits:
• If you thought you'd never seen a guy strike out nine in 3 1/3 innings before, you've got that right. Halladay was the first pitcher since 1900 to pull that off, according to the Elias Sports Bureau.
• And 95 pitches in 3 1/3 innings? Halladay owns five complete games in his career in which he threw no more than 95 pitches and a dozen games in which he's worked eight innings in 95 or fewer. And in this game, he had to huff and puff through 95 just to get 10 outs.
• Then again, it took Halladay 40 pitches to get through the first inning Wednesday. Yeah, 40. It was his first 40-pitch inning in almost six years -- since a 41-pitch first inning against the Red Sox on July 12, 2007. In between, he reeled off 1,186 1/3 innings without ever needing that many pitches to get three outs. Or 1,234 1/3 if you count the postseason.
• The Braves' .867 batting average when they actually made contact was the highest I could find against any pitcher in the live ball era who struck out at least nine in a game. The record before this? On April 25, 1990, David Cone spun off this wild line: 3 2/3 IP, 8 H, 5 R, 5 ER, 3 BB, 9 K. The hitters who didn't whiff that night went 8-for-10 (.800) with three walks. The team he faced? The Braves.
• And one more thing: Only 57.9 percent of Halladay's pitches Wednesday were strikes. He's made 377 career starts. He's thrown a lower percentage of strikes than that, according to ESPN Stats and Info, in only 15 of them.
"I don't think anybody likes to see a star going the other way," the scout said. "He's been a warrior for so long, we've all got that respect for him. You hate to see it. But like I said, it happens to everyone."