Category archive:

Minnesota Twins
April, 18, 2013
Apr 18
2:52
PM ET
Do we take greatness for granted? Sometimes, I think we do. Here are three men in this game who are so good, we need to stop and appreciate what we're watching -- especially because two of them are birthday boys:
Strike one: Miggy turns 30
Miguel Cabrera will celebrate birthday No. 30 on Thursday, as my friend, John Lowe, of the Detroit Free Press, reminds us. Wow. 'Bout time, huh?
I know the guy has won an MVP award, already racked up six top-five MVP finishes, made seven All-Star teams and won a Triple Crown. But has it really sunk in, for most of us, how incredible a hitter Miguel Cabrera has been at such a young age?
[+] Enlarge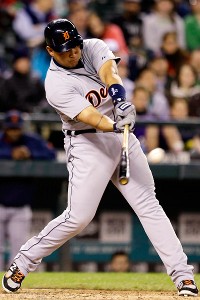 AP Photo/Elaine ThompsonMiguel Cabrera is going for a third consecutive AL batting title.
John Lowe compares Miggy to Hank Aaron at the same age. Excellent company. But here's what's even more special:
Very, very, very few hitters who ever lived are in that company.
You want the complete list of hitters who had 300-plus homers and a slash line as good as Cabrera's (.318/.395/.560) on the day they exited their 20s? Here it comes:
• Jimmie Foxx .334/.434/.628/379 HR
• Albert Pujols .334/.427/.628/366 HR
And that's it. That's the entire list.
Aaron (thanks to a .375 OBP) was actually a just-miss. So were Mel Ott (.315 AVG), Vlad Guerrero (.390 OBP) and some dude named Babe Ruth (284 HR). Mickey Mantle, Willie Mays and Alex Rodriguez were just beyond that pack. But you get the idea.
We're not just talking about good players. Or very good players. We're talking about iconic players. And Miguel Cabrera is one of them. More on Miggy:
• He's one of only 11 players who ever lived who hit this many homers before turning 30. The others: A-Rod, Ken Griffey Jr., Foxx, Mantle, Eddie Mathews, Pujols, Ott, Aaron and (of course) Andruw Jones.
• His 725 extra-base hits are the eighth most all time before age 30. The seven players ahead of him: A-Rod, Foxx, Griffey, Aaron, Pujols, Ott and Lou Gehrig.
• He's one of just six men in history with 1,800 hits and an average this high on the day he turned 30. The others: Ty Cobb, Rogers Hornsby, Aaron, Foxx and Joe Medwick.
• And he's one of only five players in history with 1,800 hits and an OPS this high (.955) on the day he turned 30. The others: Ott, Hornsby, A-Rod and Foxx.
I don't know where Miguel Cabrera is headed in his 30s and beyond. But if he's headed for statistical plateaus anywhere near where the other men on those lists wound up, we know one place he's headed:
Cooperstown, N.Y.
Strike two: Mauer power
Speaking of birthday boys … somewhere along the line, Joe Mauer (who turns 30 on Friday) seems like a guy who has mysteriously faded off most people's radar screens -- or, at least, off their list of the best hitters alive.
But he's reminding us these days that if you're one of those folks who decided he was a bust, based on one sub-Mauer-esque season at Target Field a couple of years back, it's time to take another look.

Mauer
The Twins' sweet-swinging catcher has just finished ripping off back-to-back four-hit games this week. Here's some stuff you might want to know about that -- and about him:
• Only 10 other catchers in the past 75 years have had back-to-back four-hit games. Just 18 other catchers have done it in the live ball era. Here's the difference between Joe Mauer and all the rest of them: He's the only one who has done that twice. (He also did it on June 26-27, 2006.)
• Among the catchers who never had back-to-back four-hit games: Johnny Bench, Yogi Berra, Mike Piazza, Bill Dickey, Gary Carter, Gabby Hartnett or Mickey Cochrane. All but Piazza are Hall of Famers, by the way.
• Mauer hasn't played a single game in his 30s yet. But he already has more games (19) with four hits or more in his young career than Bench (12), Berra (14), Carlton Fisk (14), Jorge Posada (17) and all but eight catchers in the live ball era had in their entire careers.
• Just for future reference, in case Mauer can get four more hits Friday, you should know that only one American Leaguer in the past 60 seasons has ripped off three straight games with four or more hits. That was Tim Salmon, on May 10-13, 1994.
• Oh, and one more thing. Just to remind you of what an aberration Mauer's 2011 season was, since Opening Day 2012, he leads the American League (and, for that matter, all hitters not named Joey Votto) in on-base percentage (.416). And the only AL hitter with a higher batting average than him (.326) in that span is -- who else? -- Miguel Cabrera (.329).
So it's safe to say Joe Mauer didn't just remember how to hit again on Monday at 7 p.m. Recalibrate your radar screens. OK?
Strike three: K for Kershaw
Clayton Kershaw struck out the 1,000th hitter of his career Wednesday night. He's 25 years old. He's younger than Colin Kaepernick, friends. Heck, he's younger than Snooki.
So how rare is it to reach 1,000 whiffs this fast? This rare:
[+] Enlarge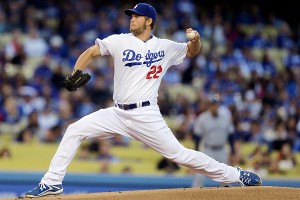 AP Photo/Reed SaxonClayton Kershaw has topped 200 strikeouts in each of the past three seasons.
• Only 15 other pitchers in the history of baseball got to 1,000 strikeouts before they celebrated their 26th birthday. Just one of them is an active pitcher. That would be Felix Hernandez.
• Besides those two, just four others have reached 1,000 K's that young in the division-play era: Dwight Gooden, Fernando Valenzuela, Bert Blyleven and Frank Tanana. Fun list.
• But now here's where this gets good: Of all the pitchers in history who reached 1,000 punchouts by age 25, only one did it in fewer trips to the mound than Kershaw (155). That was Gooden, who made it in only 145 appearances.
• And now, finally, let's take age out of this equation. In the history of baseball, just six pitchers have ever reached 1,000 strikeouts in fewer games than Clayton Kershaw. It's an excellent group:
Kerry Wood, Tim Lincecum, Roger Clemens, Gooden, Hideo Nomo and Randy Johnson.
That would mean, of course, that Nolan Ryan, Justin Verlander, Tom Seaver, Steve Carlton, Pedro Martinez, Bob Feller, Walter Johnson and, well, pretty much the entire rest of the planet didn't rack up those whiffs the way Clayton Kershaw has, right out of the gate in his young career.
So does this guy's last name start with the right letter, or what?
May, 4, 2011
05/04/11
1:32
PM ET
Any time a guy with a 9.13 ERA throws a six-walk, two-whiff no-hitter, it's a Useless Information Department kind of phenomenon. So let's delve into the madness of Francisco Liriano's unlikely no-no:
• In case we hadn't made it clear, this was one ugly no-hitter. Consider this: The guy who threw it piled up almost as many balls (57) as strikes (66). Of the last 50 no-hitters, only two featured a ball-strike ratio that messy -- one by A.J. Burnett (64 balls, 65 strikes) in 2001 and the other by the losing pitcher in Liriano's game, Edwin Jackson (70 balls, 79 strikes) last June.
• So how rarified is a six-walk, two-strikeout no-hitter? Well, more rarified than a moment of silence from Rex Ryan, among other things. This was the 249th no-hitter in history. It was the first by a guy who walked that many hitters and whiffed that few.
[+] Enlarge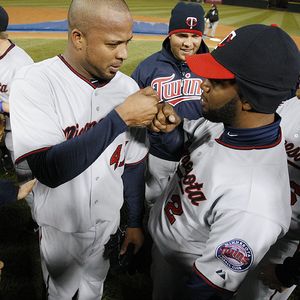 AP Photo/Charles Rex ArbogastFrancisco Liriano tossed the seventh no-hitter in Twins history.
• Liriano's 66 strikes were the fewest in any no-hitter since another fellow who was in attendance, Mark Buehrle, threw 66 strikes in his 2007 no-hitter. But it's kinda tough to compare those two games because Buehrle tossed only 94 pitches that day. So this was the fewest in a 100-pitch no-hitter since the 65 Burnett worked into his busy 129-pitch no-hit schedule 10 years ago.
• Now here's something that's really hard to do. Liriano walked the same hitter (Juan Pierre) THREE times during his no-hitter. How unusual is that? The Elias Sports Bureau reports Liriano is only the second pitcher to do that in the last 41 years, since Dock Ellis handed out three walks to Steve Huntz on June 12, 1970. The only no-hit pitcher to do it in between? Justin Verlander walked Bill Hall three times on the way to no-hit glory on June 12, 2007.
• And now something that's just as hard: Thanks to those three walks, Pierre actually raised his on-base percentage while his team was being no-hit -- from .307 to .321. Try that on your PlayStation sometime.
• By the way, Liriano issued all those walks to a team that hasn't been renowned for its count-working. Only three AL lineups have walked less this year than the White Sox have. And this was just the third time all season they'd walked six times (or more) in any game.
• Here's another strange one: We think of Liriano as the Twins' one true strikeout pitcher, right? So what were the odds that he, of all people, would become the first pitcher since 1980 (Jerry Reuss) to strike out two hitters or fewer in a no-hitter? Uh, not good. Liriano has made 96 starts in the big leagues, counting the postseason. This was only the third time he's pitched more than four innings without whiffing more than two of the hitters he faced.
• If you're a Game Score fan, my buddy David Schoenfield points out that Liriano's 83 Game Score was the worst by any no-hit pitcher since Cliff (Lefty) Chambers put up an 83 in an eight-walk no-hitter for the 1951 Pirates. That was 140 complete-game no-hitters ago, counting postseason no-nos.
• Another bizarre Liriano tidbit from ESPN's fabulous Stats & Info crew: Not only had Liriano not been taking any no-hitters into the ninth on a regular basis lately, he wasn't even regularly taking no-hitters as deep as the SECOND HITTER of the game this year. In three of his previous four starts, he'd given up a hit to the first batter he faced.
• Meanwhile, Liriano needed double-play balls to wriggle out of three of those innings. That's the most GIDPs in a no-hitter, according to Elias, since Joe (Don't Call Me Mercedes) Benz in 1914. By the way, Joe Benz was so inspired by all that, he went on to lead the AL in losses that year (with 19).
• Hey, if it makes Liriano feel better, these are some of the names he's joining in the prestigious I Walked Six (Or More) in a No-Hitter Club: Nolan Ryan, Jim Palmer, Randy Johnson, Johnny Vander Meer, Dwight Gooden, Jack Morris and Ubaldo Jimenez.

• You may have heard afterward that Liriano's 9.13 ERA was by far the worst of any no-hit pitcher this deep into a season. But if you lower the bar to three starts, according to Elias, he ranks second to Bill (Bullfrog) Dietrich of the 1937 White Sox. He took a spiffy 10.13 ERA into a no-hitter against Harland Clift's St. Louis Browns.

• Liriano said afterward he didn't realize he had a no-hitter going until the eighth inning. You could understand why. With all those walks, he wound up throwing 39 pitches from the stretch -- in a no-hitter!

• Then again, if you were going to pick a team in baseball to get no-hit these days, the White Sox -- despite all those big names on the roster -- were an excellent candidate. They started three position players -- Adam Dunn, Alex Rios and Brent Morel -- with batting averages submerged beneath the Mendoza Line. And the man who made the last out -- Dunn -- ended the night with a picturesque .158 average. That's the lowest batting average by a hitter who made the final out in a no-hitter, according to Elias, since that .135-hitting Gerald Laird made the final out of Buehrle's 2007 no-hitter against Texas.

There's something fitting about a no-hitter ending with a guy named "Dunn" at the plate. But it was about the only thing fitting about one of the oddest no-hitters ever twirled.
March, 16, 2011
03/16/11
5:51
PM ET
FORT MYERS, Fla. -- For the first time all spring, Twins manager Ron Gardenhire got to write out a lineup card Wednesday that had Joe Mauer in the No. 3 hole and Justin Morneau in the cleanup spot.
Asked afterward if it felt good to have his Nos. 3 and 4 hitters back, Gardenhire scratched his head and did his best to pretend he couldn't remember which Nos. 3 and 4 hitters people were talking about.
"Oh," he said, finally. "Those two."
Yep. Those two. As in his two former MVPs. Morneau, who is still working his way back from the concussion he suffered last July, was playing in just his third Grapefruit League game of the spring. But for Mauer, who has been out all spring with knee issues, this was his spring debut -- as a designated hitter. And it went exactly the way you'd expect:
On the second pitch he saw all spring, he pounded a single through the middle against the Mets' Mike Pelfrey.
"Walked right up there and hit a bullet up the middle in his first at-bat," Gardenhire ho-hummed after his team's 4-3 victory over the Mets. "That's not a shocker to anybody around here. … He's been telling us all spring, 'My swing is fine. I can hit.' So I'm surprised he didn't look in the dugout and give us a 'Na-nanny-boo-boo.'"
That's just how three-time batting champs roll, apparently. But for Mauer, who received three injections of artificial lubricant in his left knee this spring, hitting was never his big concern.
The most important thing, he said, is "just getting your baseball legs underneath you. Everybody goes through it. And our guys [who have been healthy] went through it a couple weeks ago, when the games started. So to get three at-bats and run around a little bit, it was definitely a good day."
The next big step on Mauer's agenda arrives Thursday, when he is scheduled to catch two innings in a minor league game. It will be the first time he's caught in a game all spring. And he only began catching bullpen side sessions a few days ago.
"I'd like to get as many at-bats as I can, but No. 1 is to make sure I get my legs back," Mauer said. "And the best way to do that is to go out and play. I've got to continue to do my leg-strengthening exercises and things like that. But I'll be pretty busy these next couple of weeks."
Asked how much he thinks he needs to catch to get himself ready for Opening Day and the season ahead, Mauer said: "Obviously, I'd like all spring to do it. But it's just going to depend on how I feel. I've been doing it long enough where I'll know when I'm ready."
But Gardenhire said his plan for Mauer over the next two weeks is "catching, catching, catching and more catching. That's going to be the big thing from here on out in spring training -- get his legs in shape [with] bullpens and catching behind the plate. The hitting part of it, Joe does better than most."
Since Mauer won an MVP award in 2009 after missing all of spring training, his absence hasn't exactly been a cause for panic. But Gardenhire said he'd hate for THAT to get out there.
"Please don't tell him that," the manager said, with a laugh, "because then he won't want to play anymore."
November, 30, 2007
11/30/07
12:49
PM ET
It seems like a ridiculous question: How great is
Johan Santana
? But as the Yankees and Red Sox spend every waking moment attempting to outduel each other for the right to pay this man 150-160 million dollars, we thought we'd ask it anyway: How great, how dominating, is Santana?
To continue reading this article you must be an Insider