Andy Pettitte not quite a Hall of Famer
February, 3, 2011
02/03/11
4:36
PM ET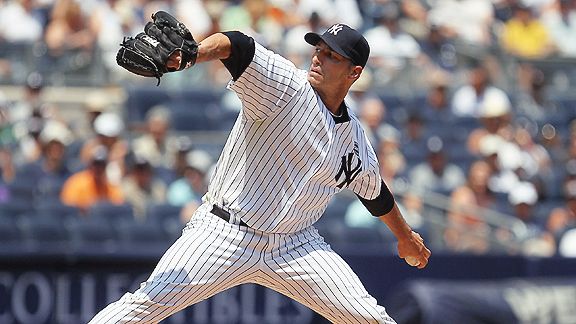 Jim McIsaac/Getty ImagesAndy Pettitte's impressive career is over. As good as it was, it falls just short of a Hall of Fame career.
It was just last summer that one of my favorite baseball executives had this eloquent description of
Andy Pettitte
: "The greatest No. 3 starter of his generation."
You should know that he meant that as a compliment, by the way. Every team needs an Andy Pettitte. Reliable. Durable. Competitor. Great teammate.
But now that the topic has shifted this week as he gets set to officially retire Friday to, "Is Andy Pettitte a Hall of Famer?" I keep thinking about that description.
We like our Hall of Famers to be No. 1 starters, not No. 3's. We like them to be dominators, not "competitors." We look for signs of greatness, not sturdiness.
So I think Andy Pettitte is in for a long ride on the Hall of Fame ballot, a man who will attract hundreds of votes. But if I had to make this call today, I'd say he lands just on the side of "Not quite a Hall of Famer."
That's no insult, you understand. If I said, "I wouldn't trust that guy to beat the Cleveland Spiders," now THAT'S an insult. But to say he's "not quite a Hall of Famer?" That already qualifies him as a man who clearly had a hell of a career.
Just not quite a Hall of Fame career. That's all.
We'll be debating this for the next two decades, so no need to rip through all the arguments right now, before the guy has even shown up at his retirement news conference. But as much I admire those 240 wins, those 19 postseason wins and those 10 seasons of 200 always-dependable regular-season innings, here are the big issues for me:
• Pettitte finishes his career with a WHIP of 1.36. According to baseball-reference.com, that ranks him 717th among pitchers who worked at least 1,000 innings. Yep, 717th. He doesn't want to know there is only one pitcher in the Hall of Fame with a WHIP higher than that -- Burleigh Grimes (1.37). And old Burleigh last loaded one up in 1934.
• There are lots of great words we could use to describe Andy Pettitte. But "unhittable" wouldn't be at the top of the list. As ESPN Stats & Info guru Mark Simon reports, it's tough making a case for Hall worthiness after allowing more career hits than innings pitched -- and Pettitte gave up 1.04 hits per inning. Now it's true there are nine Hall of Famers who served up more hits than they pitched innings. Unfortunately, none of them has appeared in a box score in 65 years (since Ted Lyons in 1946).
• But sometimes we need to ignore those decimal points and look to the leaderboard for indicators. If we do that in Pettitte's case, though, there just aren't many of what Bill James calls Black Ink or Gray Ink points. Pettitte led his league in only two significant departments in 16 seasons -- wins once (1996) and games started three times (all ties for first). And he had only one top-five finish in WHIP, two top-fives in ERA and no top-fives in strikeout ratio. He also made it into the top three of just one Cy Young election (second place in 1996).
• So how'd he do in the big Sabermetric categories? According to baseball-reference.com, Pettitte had only two seasons in which he ranked in the top five in Wins Above Replacement (WAR) for pitchers, two top-fives in Adjusted ERA-Plus and two in Win Probability Added. All of those league-leader appearances came in the same two seasons, 1997 and 2005.
• Lastly, baseball-reference.com also provides us with a list of pitchers who were most similar to Pettitte. It's hard not to notice that the top five on Pettitte's most-similar list include three of the classic Not Quite Hall of Famer candidates of Pettitte's very own generation -- David Wells (first), Kevin Brown (second) and Dwight Gooden (fifth). No. 4 was Mike Mussina, who has a slightly better case but is right on the line himself. And who was No. 3? That would be Bob Welch, whom we'd describe as not quite a Not Quiter. So it would be a lot more convincing to find Lefty Grove, Steve Carlton and Carl Hubbell on that list.
Now those are just some of the compelling baseball elements in this conversation. You know and I know I could easily bring up those magic letters -- HGH -- and launch a whole different kind of discussion. But, uh, let's save that one, huh?
I know what's happened to all previous PED-linked candidates. I have no idea what that foreshadows for this particular candidate. But if we're talking about a guy who's already huffing and puffing to prove he's Cooperstown material, that dreaded HGH stain can't be real helpful. That's as far down this road as I feel like traveling, though -- for now, anyway.
Finally, let's address the dumbest argument I've heard made against Pettitte's Hall of Fame candidacy -- that if he ever does get in, it's only because the voters love to elect Yankees. Really?
Yeah, it's a fact that there's a certain level of Fame By Association for all longtime Yankees. We can't help but know their names. They can't help but get massive October face time. And there are times, for sure, when they can appear greater than they really are, just because of the uniform they wear and the stars they hang around with.
But I also recognize this: It's not as easy to be a Yankee as it sometimes looks to all those Yankee-haters. It takes special talent and special inner strength to handle pitching 13 seasons for a team that thinks that if it doesn't win the World Series, the entire season has been an official disaster.
So OK, it's clearly true that the single biggest reason Andy Pettitte won more postseason games, made more postseason starts and threw more postseason innings than any pitcher who ever lived is that he spent so much time as a Yankee. I get that. But I also get this:
Every one of those starts, every one of those innings, every one of those wins came amidst the kind of pulse-spiking pressure that your average human never, ever faces in his or her job. That's never. And ever.
Yet the Yankees always felt good about handing Andy Pettitte the ball on a crisp October night. Always. There's a good reason for that:
On those heart-thumping October evenings, this man did way more than just compile numbers …
He made this Hall of Fame debate way more difficult than it probably ought to be.
But come 2015, our job as voters won't be merely to look back just at those epic nights in October. It will be to judge the entirety of Pettitte's career.
And when that time comes, I expect the words at the top of this column will still be swirling in my brain:
The greatest No. 3 starter of his generation.
A man who can make that claim can be proud of his career. But he can't be certain it will ever propel him to the podium in Cooperstown.