All you need to know about NLCS Game 6
October, 16, 2011
10/16/11
11:33
AM ET
MILWAUKEE -- Game 6 of the NLCS is just hours away. Here are a few tidbits to get you stoked for a huge game:
• Brewers manager Ron Roenicke has never wavered. He will start Shaun Marcum in Game 6 even though Marcum's ERA in his past six starts is a gruesome 8.18 (30 earned runs in 33 innings).
So how unusual is it for a team down to its last game to start a pitcher with an ERA that hefty? We asked the Elias Sports Bureau. It reports that only one other pitcher in postseason history has started a potential elimination game after compiling an ERA over 8.00 in his previous six starts.
So who might that have been? It was a fellow named Derek Lowe, whom the Red Sox started in Game 4 of the 2004 ALCS, when they were down 3-0 against the Yankees.
Lowe came into that game with an 8.34 ERA in his previous six starts, not counting a relief appearance earlier in the postseason. But guess what? It worked out fine.
[+] Enlarge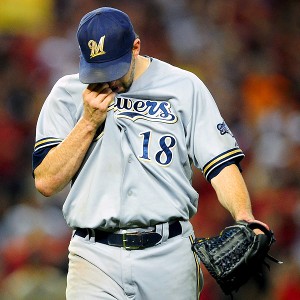 Mark J. Rebilas/US PresswireThe Brewers just need Shaun Marcum to be good in Game 6. They don't need him to be great.
Lowe pitched into the sixth inning and left with a 3-2 lead after 5 1/3 innings. Even though his bullpen couldn't hold that lead, his team went on to win in 12 innings thanks (as you might recall) to Dave Roberts and David Ortiz.
So all Marcum has to do Sunday is follow the Derek Lowe playbook -- as long as his manager promises to follow the Terry Francona playbook and get him the heck out of there at the first sign of trouble.
• If you missed Friday's column about how Tony La Russa is making his starting rotation seem just about irrelevant, you can check it out here.
That column was a tale of a manager who can't wait to start waving for his bullpen, even though it means his starters have averaged only slightly more than 13 outs per start in this series. And if this keeps up, La Russa is heading for bullpen-manipulation levels never before witnessed by October-kind.
All he has to do in Game 6 is hook Edwin Jackson early, and he could put the Cardinals in position to do something almost incomprehensible:
Their relief pitchers could wind up getting more outs in this series than their starters -- and they still could wind up (gulp) winning the series.
Now THAT is tough to do -- but not impossible. Elias reports that one team in postseason history has pulled it off in a best-of-seven series. That was Chuck Tanner's 1979 Pirates, in their come-from-behind World Series ambush of the Orioles.
But Tanner made just 17 pitching changes in those seven games -- an average of 2.4 per game. La Russa has made 23 pitching changes in the first five games of this series -- an average of 4.6 per game. So even Tanner never mixed and matched like this. Has anybody?
If we drop the bar down to best-of-five series, five teams have won a series while getting more outs from their bullpen than their starters (though, again, with a lot fewer pitching changes). And you'll never guess who the manager was of the last team to do it. It was someone named Tony La Russa, naturally -- with the 2000 Cardinals in a five-game NL Division Series win over Arizona.
At the moment, Cardinals starters have gotten 67 outs in this series. Their relievers have gotten 65 outs. So if Jackson goes four innings or fewer in Game 6, the bullpen could surge into the lead. How 'bout that for drama?
• Here's another challenge we'd like to dangle in front of La Russa: If he keeps going to that bullpen at his current pace and this series goes seven games, he's in position to set the record for most pitching changes by any manager in any postseason series in history. Here's that wild leaderboard:
2004 Red Sox (Francona) -- 30 pitching changes in seven ALCS games.
2004 Yankees (Joe Torre) -- 26 pitching changes in the same ALCS.
2002 Giants (Dusty Baker) -- 26 pitching changes in seven World Series games.
2011 Rangers (Ron Washington) -- 25 pitching changes in six ALCS games.
1997 Indians (Mike Hargrove) -- 25 pitching changes in seven World Series games.
1996 Cardinals (La Russa) -- 25 pitching changes in seven NLCS games.

But here's where this gets interesting. Only two of those teams actually won those series -- the 2004 Red Sox and 2011 Rangers. But both had their numbers padded by two long, extra-inning games.
So if we eliminate all extra innings AND the Cardinals win this NLCS, La Russa already has made enough moves to clinch the record for most pitching changes by a winning manager, assuming his team wins the series. And if he gets to 27, which ought to be a piece of cake, he can set the record for most changes in any series that didn't include extra-inning games, regardless of the outcome.
In other words, if you think you're watching a guy manage up a storm, you're absolutely correct.
• We spoke to some scouts after Game 5, and they weren't too upbeat about Zack Greinke's performance or body language. One review: "He just didn't have the look of a guy who went out there and said, 'We're gonna win this game and win this series, and I'm gonna make sure of it.'"
Obviously, because his team made four errors, not all that happened in that game was Greinke's fault. But he still has a 6.48 ERA in his three starts in this postseason. And according to Elias, that would be the second-worst ERA in any postseason in history by a former Cy Young Award winner who pitched at least 15 innings.
No. 1 on that list: Vida Blue (7.00 in 1973). The previous runner-up: Mike Cuellar (5.74 in 1970).
• But at least Greinke propelled himself into the No. 1 spot on one list Friday: He threw the slowest pitch of this postseason, according to Pitch f/x data compiled by loyal reader Trent McCotter. That pitch was a 64.4 mph curveball to Lance Berkman in the fifth inning.
Greinke also has thrown the second-, third-, fourth-, fifth- and sixth-slowest pitches of this postseason -- curveballs clocked between 64.4 mph and 66.1. And it's his teammate, Randy Wolf, who holds the No. 7 spot, with a 66.2 mph breaking ball to Nick Punto on Thursday night.
Greinke and Wolf also had fastballs clocked in the 90s in their starts, but Greinke maxed out at 95.4. That 31 mph differential between pitches is the largest of any pitcher in this postseason.
• Octavio Dotel's huge fifth-inning strikeout of Ryan Braun on Friday gave Braun eight career whiffs against Dotel in 10 at-bats. How amazing is that? Only two active STARTING pitchers have struck out Braun eight times or more -- Carlos Zambrano (14) and Adam Wainwright (eight). The only other active reliever who has whiffed Braun more than four times? It's the Reds' Nick Masset (seven in 12 at-bats).
• Finally, the Brewers may need to win Games 6 and 7 if they want to salvage this series, but the odds of that happening aren't as long as you might think. Since the LCS became a best-of-seven series in 1985, 15 teams have headed home for the final two games trailing in the series 3-2 -- and five of them have come back to win the series. If we include the World Series, 32 teams have been home for Games 6 and 7 of a seven-game series, needing to win both -- and 12 of those 32 have done exactly that. And if we look at all 31 teams that have trailed an LCS 3-2, regardless of where the final two games were played, nine of those 31 teams still won the series.
And guess what? None of those teams -- in the division-play era, at least -- had a home record as good as these Brewers (57-24). So ya never know.