Can't get enough of Bryce Harper
March, 19, 2012
03/19/12
5:09
PM ET
There's so much to talk about on the
Bryce Harper
beat,
the column I wrote on him Monday
wasn't enough. In other news …
Strike One -- It's Just Business
Elsewhere on this site, FanGraphs' Dave Cameron does a sensational job of outlining how much money the Nationals might have saved by sending Harper to the minors.

Suffice it to say this team could fund its office Christmas party for about the next century just with the dollars this decision will be worth.
Obviously, the Nationals were aware of the money at stake. And obviously, it was a factor. But when I raised this issue the other day with Nationals GM Mike Rizzo, he sure did his best to make it sound like this was more a baseball decision than a business decision.
[+] Enlarge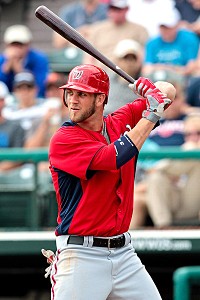 Daniel Shirey/US PresswireThe Nationals have high expectations for Bryce Harper.
"It's a piece of the equation," Rizzo said. "There's no question about it. But sometimes you're forced to make decisions that, long-term financially, aren't the smart thing to do. Take a guy like Drew Storen, who we could have kept in the minor leagues [in 2010] for three more months and he wouldn't have had a chance to be a Super 2. But we brought him up because we felt he was ready to pitch in the big leagues and ready to contribute to us and we had a need there."
There's a difference, though, between Storen, college-drafted relief pitcher, and Harper, 19-year-old work in progress. It extends beyond the spreadsheets.
"There's a huge difference," Rizzo conceded, "because you're talking about a reliever that was a college player from Stanford that was media savvy before we drafted him. And it's all about being ready, mentally, physically and emotionally, to play and stay in the big leagues. Drew Storen met all those criteria.
"So there's a big difference. [Harper] was a 17-year-old player when we drafted him. He's 19 now. And position players certainly develop different [than a reliever]. It takes a longer pace for them to fully develop than a relief pitcher."
No doubt about it. As I mentioned in the column, it would be tough to consider any player fully developed when he'd played only 37 games above the Class A South Atlantic League. I asked Rizzo how many players he'd seen who were ready for the big leagues after spending that little time in Double-A and above.
"Not very many," he said. "Not very many at all."
Strike Two -- The Center Of Attention
Another reason the Nationals gave for wanting to send Harper to the minor leagues was that they think he needs time to get accustomed to playing center field.
They're correct about that.
If they really thought he was ready, though, they'd have run him directly out to right field and not worried about it. But if they're serious about putting him in center once he gets to the big leagues, there's no question he needs a lot of work.
"I don't know if he can play center, because I've only seen him play right," said one NL scout. "But he's even got challenges out there. I'm talking basic stuff, like hitting cutoff men and throwing to the correct base. He'll certainly give them enough offense to play right field. But in center field, there's much more of a premium on defense.
"They'll be asking him to do more. He's got to go gap to gap. He's got to go back to the wall. He's got to cut off balls and keep the double play in order. There's much more involved in being an elite center fielder than there would in being an elite right fielder."
If the Nationals' long-range game plan falls into place, they won't be asking Harper to become an elite center fielder, because in a year they're likely to move Michael Morse to first base, put Harper and Jayson Werth in the corners and plug a longer-term option, a la Michael Bourn, in center. So when you peer into their future, this center-field experiment is purely a temporary maneuver in the first place.
"Down the road he won't be a center fielder," the scout said. "He's not done growing, either. You know what this kid is going to look like in five years? He'll be a monster. And he'll be back in right field. Right now, they're just trying to find a spot that fits in the big leagues and where he can get to the big leagues ASAP -- as long as it's after June 1 [wink, wink]."
Strike Three -- Teen Dream Department
It was easy to look at Harper this spring and dream very large dreams, but here's a dose of reality:
Just take a look at how teenagers have fared in the big leagues in recent history, and it's more evidence the Nationals have taken the proper course.
• You think Harper would have hit 20 home runs if he'd been in the majors all year? Maybe. But over the past 50 years, only three teenagers have even hit 10 homers in a season: Tony Conigliaro (24, in 1964), Ken Griffey Jr. (16, in 1989) and Ed Kranepool (10, in 1964).
• For that matter, only four active players have even hit five home runs in a season while in their teens: Alex Rodriguez (5, in 1995), Andruw Jones (5, in 1996), Adrian Beltre (7, in 1998) and Mike Trout (5, in 2011).
• Harper hit 24 doubles in the minor leagues last season. The only teenager to hit that many doubles in a big-league season over the past half-century: Robin Yount (28, in 1975).
• Harper stole 26 bases in the minors last year too. You know the last teenager to steal 20 in a season in the big leagues? Would you believe Ty Cobb (23, in 1906)?
• Finally, Harper had a .501 slugging percentage in the minors last year. Want to guess how many teenagers have ever slugged .500 in a big-league season of 250 or more plate appearances? Exactly two: Conigliaro (.530, in 1964) and Mel Ott (.524, in 1978).
At some point this year, Harper will reach the major leagues. And he'll still be 19. Which means at some point, he'll get a chance to add his name to all of these lists.
I'd take the Five-Homer Club in the pool. Want to take a flyer in a different category? Tweet it at me, @jaysonst. Can't wait to see what you think.
If you still dream those large dreams, it'll make Harper happy, anyhow.