Matt Kemp having a monster first month
April, 30, 2012
04/30/12
2:33
PM ET
So there I was Sunday, driving along, listening to my old friend Charley Steiner call the latest Dodgers-Nationals duel, when I heard him utter these two sentences:
"What an April for Matt Kemp. I wonder if this just might be the greatest April ever."
I hope he'll forgive me if that wasn't an exact quote. I'm not a big proponent of taking notes when I've driving down the road at 62 miles per hour. But however it was that Charley Steiner worded it, I got the message.
[+] Enlarge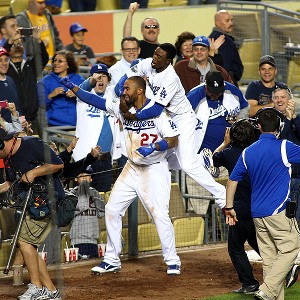 Jake Roth/US PresswireMatt Kemp has been the center of attention for the entire month of April.
It was time to determine if, in fact, Matt Kemp HAS had the greatest April ever.
As always, of course, the answer depends on what numbers on the stat sheet get your heart thumping. But if you take all of Kemp's big numbers -- the slash line, the homers, the extra-base hits, the runs scored, the RBIs -- here's what you'll find:
It is, at the very least, The Greatest April Ever By A Hitter Who Played His Home Games At Sea Level.
We can get into how I determined that in a moment. But first, let's take a look at the magnificence of Kemp's April in all its monstrous splendor, heading into the Dodgers' final game of the month, Monday night at Coors Field:
.425 AVG/.495 OBP/.888 SLG, with 11 home runs, 15 extra-base hits, 23 runs scored, 24 RBIs.
Whew.
After perusing those numbers, I decided to look into this question:
Has any hitter ever matched or beaten him, in any April in history, in all of those categories?
And the answer is: Only one man ever has. That would be Larry Walker, in April 1997:
.456/.538/.911, with 11 home runs, 18 extra-base hits, 29 runs, 29 RBIs.
But yes, Walker played for the Rockies back then. And yes, he played 11 of his 23 games that month at Coors Field, where he went .500/.588/.761. And yes, that was definitely Coors' pre-humidorian era.
So if you're into applying that Coors asterisk, apply away. Hence that "Sea Level" addendum.
But I recognize, obviously, that there are other ways to look at numbers. So if I strip away the requirement that it was necessary to match or beat Kemp on every darned line of the stat sheet, here are the other contenders for Greatest April of the Last 55 Years. (Why not "ever"? Because I used baseballmusings.com's fabulous day-by-day database to do this research -- and it goes back only to 1957.)

Bonds
Barry Bonds, 2004
Talk about sick numbers. You might want to dial 911 before you check these out:
.472/.696/1.132, with 10 home runs, 15 extra-base hits, 21 runs, 22 RBIs.
And ohbytheway, Bonds also walked 39 times -- and struck out six times. So he reached base in 64 of his 92 trips to the plate that month. That's all.
In other words, if we eliminate the requirement that a guy had to match or beat all of Kemp's counting numbers, this was actually The Greatest April Ever. But hey, you know my motto: "Make the stats work for you."
Hank Aaron, 1959
Aaron played only 14 games in April 1959. But they kind of catch your attention:
.508/.516/.967, with 6 home runs, 15 extra-base hits, 15 runs, 15 RBIs.
Just out of curiosity, I looked at Aaron's first 26 games -- the same number Kemp has played -- and he didn't exactly fizzle out:
.482/.508/.827, with 8 home runs, 20 extra-base hits, 21 runs, 25 RBIs.
Reggie Jackson, 1974
When Reggie got hot, it was something to behold. And he had it going this month:
.397/.451/.872, with 10 homers, 17 extra-base hits, 18 runs, 27 RBIs.
Tony Perez, 1970
This was the Big Doggie in his prime, on the way to the greatest season of his career:
.455/.558/.870, with 10 homers, 12 extra-base hits, 21 runs, 26 RBIs.

Williams
Ted Williams, 1957
Williams played only 12 games in April '57. But he was on base in every one of them. Of course he was:
.426/.526/.766, with 4 homers, 8 extra-base hits, 11 runs, 8 RBIs.
Stan Musial, 1958
See above. Musial played in just 13 games this April. Ridiculous how good a hitter this man was.
.528/.574/.868, with 4 homers, 10 extra-base hits, 13 runs, 10 RBIs.
Frank Robinson, 1966
On the way to the Triple Crown, the 12 spectacular games Robinson played in April looked like this:
.463/.585/.976, with 5 homers, 10 extra-base hits, 16 runs, 10 RBIs.
Ken Singleton, 1981
It's easy to forget what a productive hitter this man was at his best. So check out this start, in a mere 15 games:
.472/.517/.981, with 7 homers, 13 extra-base hits, 9 runs, 14 RBIs.

Brett
George Brett, 1983
How good was George Brett, huh? This was in just 16 games:
.460/.528/.921, with 5 homers, 18 extra-base hits, 18 runs, 20 RBIs.
Ron Cey, 1977
The competition for Previous Greatest April by an L.A. Dodger is pretty darned torrid. But I'm throwing this nomination out there for The Penguin:
.425./543/.890, with 9 home runs, 15 extra-base hits, 18 runs, 29 RBIs in 20 games.
Now we could have lots and lots and lots of honorable mentions, naturally. But to make this cut, I needed to see big power, a Kemp-esque OBP and a batting average that made you say, "Whoa." So if I overlooked one -- or eight -- of your favorite nominees, sorry. This wasn't easy.
But it was still an exercise that proved the point. Aprils like Matt Kemp's April don't come around every year. So stop and pay homage to what this man has done -- and to what it could mean for his sport.
As one AL exec put it, "I'm a fan of greatness. And I think it would be great for our game if this guy keeps playing great. When you see somebody playing the way he's playing, it's just so much fun to watch."