Giants history of the wrong kind
September, 20, 2012
09/20/12
12:24
PM ET
It's time now for the September History Watch crew to jump into the Wayback Machine and set the dial for AT&T Park in April of 2004.
We'll be visiting the Giants' first homestand of the 2004 season. And you know what we'll see?
We'll see the artist formerly known as Barry Lamar Bonds hit seven home runs in the Giants' first week at home all season. That's what.
And why would we want to bring up something as ancient as that, you wonder? Here's why:
Because people who have spent the 2012 season hanging out in that very same ballpark haven't seen any Giant hit seven home runs there the whole darned season. That's why. (Your team leader: Buster Posey, with six.)
[+] Enlarge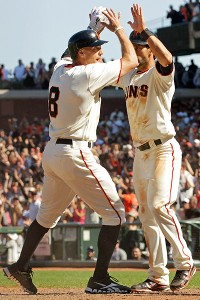 Cary Edmondson/US PRESSWIREAngel Pagan and the Giants have been outhomered at home, 49-23.
Yes, friends. The Giants are making home run history again this year. But this time, it sure isn't the same kind of home run history their old left fielder used to make. So let's take a look:
• How many home runs has this team hit at home this year? Would you believe 23? That's right. We said 23. According to the Sultan of Swat Stats, SABR home run historian David Vincent, only four teams have hit fewer than that (in a non-strike season) in the entire division-play era. And no National League team has hit fewer in any ballpark not named "The Astrodome":
There was Rafael Landestoy's 1979 Astros (15). There was Doug Rader's 1971 Astros (18). There was Jerry Mumphrey's 1984 Astros (18). And there was Felix Fermin's 1991 Indians (22). And that's all, folks.
• So when was the last time any Giants team hit this few home runs at home in any season? Believe it or not, that would be 1918, when Heinie Zimmerman's New York Giants whomped nine -- count 'em, nine -- homers at the Polo Grounds, where that 483-foot center field made AT&T Park feel like the Great American Small Park. But the good news is, if the Giants just hit one more, they'd pull even with Johnnie LeMaster's 1980 Giants, who made 24 trots at Candlestick. How's that for drama?
• Incidentally, you should also know this:
Fewest home runs at home in a season by any team in the 2000s -- 35, by the 2010 Mariners.
• And now this tidbit, for amusement purposes only:
Home runs at home this year:
• Now let's bear down on that Giants outfield. A dozen men have played in that outfield for this team this season. They've combined to come to the plate nearly 1,000 times. And they've hit a total of six home runs. Right. Six.
Have we mentioned that Barry Bonds hit more than that in the first week of the season in 2004? Oh, that's right. It's come up.
Not surprisingly, the Sultan reports that only three teams have gotten fewer homers than that from their outfielders in any non-strike season in the division-play era. Here they come:
Kevin Bass' 1984 Astros (4)
Jorge Orta's 1976 White Sox (5)
Casey Candaele's 1991 Astros (5)
Just for the record, 45 different outfielders have hit more than six homers at home this year all by themselves. No need to list them. You get the idea.
• Finally, before we send our Wayback Machine home, you know what happened on April 18, 2004? That Barry Bonds guy hit two home runs in a game at AT&T. That's what. And what's the big deal about that? Well, the big deal is, no Giants outfielder has hit more than two home runs in that park all season. (Gregor Blanco and the former Melky Cabrera share the lead, with two apiece.) And that, ladies and gentlemen, is hard to do.
Ready for the four teams in the division-play era that had no outfielder hit more than two homers at home all season (non-strike-year division)? Glad to help you out with that:
1974 Yankees -- Roy White (2)
1976 White Sox -- Chet Lemon (2)
1979 Astros -- Terry Puhl (2)
1984 Astros -- Terry Puhl (2)
So clearly, the Giants either need to bring in the fences or sign Terry Puhl immediately. But since neither of those options is real workable, they'll just have to spend their final eight home games giving our September History Watchers something deep and meaningful to pay attention to. And for that, we're eternally grateful. Of course we are!