Discussion
The market for Shin-Soo Choo
What will it take to sign this on-base percentage/leadoff machine?
LAKE BUENA VISTA, Fla. -- Shin-Soo Choo is, by acclamation, a very good player with a lot to offer a major league team. But the speculative frenzy surrounding him at the winter meetings has more to do with falling dominoes than his stellar on-base percentage.
Now that free agents Robinson Cano, Jacoby Ellsbury, Brian McCann, Carlos Beltran, Curtis Granderson and Mike Napoli are off the board, the focus naturally turns to Choo, a hit-by-pitch and OBP machine who has a special niche as a ...

Read full story
MLB ON ESPN.COM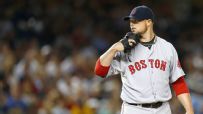 Jon Lester could soon be wearing a different uniform. But which uniform?