Discussion
BBTN 100: Top 10 right fielders
Updated:
March 20, 2014, 11:37 AM ET
ESPN.com
Who are the best players in Major League Baseball heading into the 2014 season? ESPN formed a panel of MLB writers, analysts and contributors to rank the top 100. We'll run through the top 10 lists at every position beginning March 17, and unveil the top 100 on March 27 with a special edition of "Baseball Tonight."
The results will be announced on ESPN.com, Facebook and Twitter (@BBTN). Fans can use the hashtag #BBTN100 to join the discussion and follow along.
To ...

Read full story
TOP PLAYERS OF 2014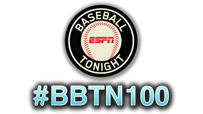 MONDAY, MARCH 17
TOP 10 SECOND BASEMEN
TUESDAY, MARCH 18
TOP 10 SHORTSTOPS
WEDNESDAY, MARCH 19
TOP 10 RIGHT FIELDERS
THURSDAY, MARCH 20
TOP 10 LEFT-HANDED PITCHERS
FRIDAY, MARCH 21
TOP 10 THIRD BASEMEN
SATURDAY, MARCH 22
TOP 10 CATCHERS
SUNDAY, MARCH 23
TOP 10 RIGHT-HANDED PITCHERS
TOP 5 CLOSERS
MONDAY, MARCH 24
TOP 10 CENTER FIELDERS
TUESDAY, MARCH 25
TOP 10 FIRST BASEMEN
TOP 5 DHS
WEDNESDAY, MARCH 26
TOP 10 LEFT FIELDERS
THURSDAY, MARCH 27
TOP 100 PLAYERS