Discussion
The Rollins-Sandberg relationship
I had the pleasure of playing with Jimmy Rollins and Ryne Sandberg. I was the bridge between the end of Ryno's career and the beginning of Rollins'. Baseball generations change quickly. It seems as if there is a new culture every five years, and it is always a challenge when one generation has to adapt to another.
This week, Sandberg, the Phillies' manager, held Rollins out of the lineup. Rollins appeared caught off guard, expecting to be penciled in the lineup even in spring training. ...

Read full story
MLB ON ESPN.COM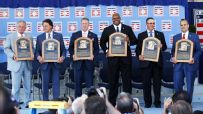 Six new Baseball Hall of Fame inductees were enshrined in Cooperstown on Sunday.