Discussion
Baseball movies … they're back!
'Million Dollar Arm' lands in what might be a new golden age of baseball films
Originally Published:
May 16, 2014
By
Jim Caple
| ESPN.com
Decades later, you still hear these lines repeated around the bar, in the stands and at company softball games, as well as inside major league clubhouses and dugouts.
"There's no crying in baseball!"
"Just a bit outside."
"If you build it, he will come."
"Candlesticks always make a nice gift."
"Losing is a disease."
By the way, that last line is not from a Cubs manager. Baseball movie fans will recognize ...

Read full story
'MILLION DOLLAR ARM'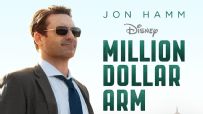 Disney's new baseball movie opens in theaters nationwide on May 16.