Discussion
New hearing for Barry Bonds
Updated:
July 2, 2014, 4:14 AM ET
Associated Press
SAN FRANCISCO -- A federal appeals court will reconsider Barry Bonds' felony conviction for obstruction of justice.
The 9th Circuit Court of Appeals ruled Tuesday that a limited en banc panel of 11 judges will review a 2011 jury verdict finding Major League Baseball's career home runs leader guilty of giving evasive testimony to a grand jury investigating elite athletes' use of performance-enhancing drugs.
Arguments have been scheduled for the week of Sept. 15 in San Francisco.
"Mr. ...

Read full story
MLB ON ESPN.COM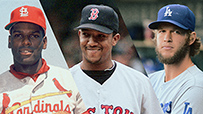 Top 20 pitcher seasons: Where does Dodgers left-hander Clayton Kershaw rank?