Discussion
Lester's no-hitter part of an amazing tale
There's room for a gentleman's disagreement among the scouts and talent evaluators. Maybe Jon Lester is a Cy Young Award winner-in-training or just a garden-variety, middle-of-the-rotation guy. But 37 starts into his big league career, one thing can't be denied: The kid sure has a flair for the dramatic.
You figured nothing could top Game 4 of the 2007 World Series, when Lester beat Colorado in Boston's championship clincher a mere 10 months after completing cancer treatments at his home ...
Read full story
Hit-Les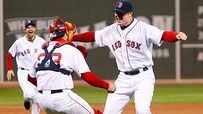 Boston left-hander Jon Lester shut down Kansas City on Monday night, throwing the first no-hitter in the majors since Red Sox rookie Clay Buchholz threw one last September.
Stories and blogs
•
Jayson Stark: Making history in Boston

•
Buster Olney: Getting better all the time

•
Jerry Crasnick: His amazing tale continues
•
Sean McAdam: Lester's hard road to a no-hitter
•
Rob Neyer: More suffering for Royals fans

•
Lester, Red Sox breeze past Royals
•
List of all-time no-hitters
Analysis
•
Will Harris: All that glitters is not gold
•
Baseball Tonight Clubhouse
•
Inside Edge: Report card
•
Inside Edge: Postgame report
Video
•
Baseball Tonight: Red Sox make history
•
Highlights: Lester dominates Royals
•
Lester's postgame reaction
Audio
•
Buchholz on Lester's feat

•
Stark


•
Olney