Discussion
Passenger upgraded to fair condition
Updated:
April 28, 2009, 8:18 PM ET
Associated Press
LOS ANGELES -- The passenger injured in the car crash that killed Los Angeles Angels pitcher Nick Adenhart had his status upgraded to fair late last week and has been undergoing physical and speech therapy.
Jon Wilhite, of Manhattan Beach, remains in intensive care at the UC Irvine Medical Center but can move and is not paralyzed, hospital spokesman John Murray said.
His condition was upgraded last Thursday.
The 24-year-old was riding in a Mitsubishi Eclipse with Adenhart and ...

Read full story
Nick Adenhart, 1986-2009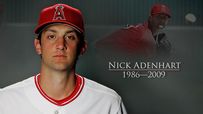 NEWS
VIDEO
AUDIO