Discussion
Holliday makes presence felt quickly
Slugger gives Cards what they need -- offense from someone other than Pujols
PHILADELPHIA -- He woke up a little before noon in a New York hotel room, still a trusty employee of the Oakland A's. Little did Matt Holliday know that a mere 7½ hours later, he would find himself in Philadelphia, hitting cleanup for the St. Louis Cardinals.
But funny stuff can happen to guys like him this time of year. And Friday, that funny stuff happened to Matt Holliday. He got traded Friday for the second time in eight months, this time from the A's to the Cardinals -- for ...
Read full story
HOLLIDAY TRADED TO CARDINALS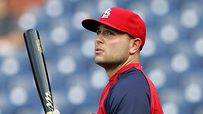 The Oakland A's traded left fielder Matt Holliday to the St. Louis Cardinals for three prospects.
NEWS/ANALYSIS
VIDEO