Discussion
Faith unrewarded
David Ortiz really wanted us to believe he was different from the rest
Think for a moment about faith. Not about baseball or the media, about the union or management, the home and away teams, all the stuff that seems so important but in truth really amounts to nothing. Such surface concerns melt away with the years, like snowdrifts in April.
You have to go deeper than that to understand the meaning of the New York Times report that David Ortiz is one of the players who tested positive in the now-infamous 2003 performance-enhancing drug testing.
You ...

Read full story
REPORT: RAMIREZ, ORTIZ OUTED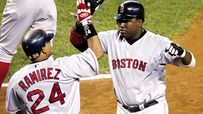 According to the New York Times, former Red Sox teammates Manny Ramirez and David Ortiz are among the players who tested positive for performance-enhancing drugs in 2003.
VIDEO
AUDIO
SPORTSNATION