Discussion
Wolf still has loyal fans in Philly
Wolf Pack will be howling in Game 4 of the NLCS, but not for the former Phillie
Originally Published:
October 18, 2009
By
Amy K. Nelson
| ESPN.com
PHILADELPHIA -- When Randy Wolf takes the mound Monday night against his old team, there will be six Phillies fans, somewhere in the stands, quietly watching with admiration.
Patrick Wood, a lifelong, die-hard Phillies fan, will be one of the six family members at Citizens Bank Ballpark. Wood, 38, will be rooting for his team, but that doesn't mean he won't have mixed emotions when he watches the Phillies try to build on their 2-1 series lead against the Dodgers in Game 4 of the National ...

Read full story
NLCS GAME 3: PHILLIES 11, DODGERS 0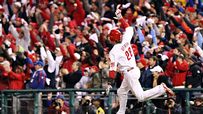 The Phillies' offense built a big lead early and then handed the game over to Cliff Lee. That combo led to an easy win and a 2-1 NLCS lead over the Dodgers.
STORIES
VIDEO