Discussion
World Series Game 6 news and notes
Updated:
November 5, 2009, 10:52 AM ET
ESPN.com
The New York Yankees beat the Philadelphia Phillies 7-3 in Game 6 on Wednesday night to win the World Series at Yankee Stadium. The following are some notes from Game 6 and the World Series as a whole.
The credit for this information goes to ESPN's Stats & Information team and the Elias Sports Bureau. NEW YORK YANKEES • The Yankees won their 27th World Series and first since 2000. They're the first team to win a World Series to start and finish a decade. • ...
Read full story
WORLD SERIES GAME 6: YANKEES 7, PHILLIES 3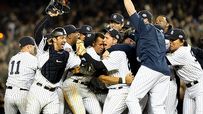 The Yankees built not only a new stadium but also a World Series winner. New York claimed its 27th title by dethroning the Phillies in six games. World Series page »
STORIES
SPORTSNATION
VIDEO
AUDIO