Discussion
McGwire said enough to be believable
Big Mac didn't completely come clean about his PED use, but he did seem remorseful
Originally Published:
January 11, 2010
By
Jayson Stark
| ESPN.com
When men like Mark McGwire look into the cameras and do their grand, nationally televised steroid-confession mea culpas, we don't ask for a whole lot anymore.
All we want is for them to look real, sound genuine and appear to feel actual, authentic remorse. And Mark McGwire did all of that Monday night, through nonstop sniffles of pain and angst.
We also want them to express regret, to tell us they're really, really, really, really sorry. And McGwire did that, too -- like about ...

Read full story
MARK MCGWIRE COMES CLEAN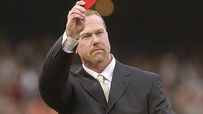 Mark McGwire admitted Jan. 11 that he used steroids on and off for nearly a decade, including during the 1998 season when he broke the then single-season home run record.
NEWS
ANALYSIS
VIDEO
AUDIO
SPORTSNATION
PAST LINKS