Discussion
Who are American Baseball Idols of '10?
Whittling down the 30 'contestants,' only the Phillies will be left standing in October
Originally Published:
April 2, 2010
By
Jayson Stark
| ESPN.com
It's time once again for the most impossible assignment of the year. Time to pick the team that's going to win the 2010 World Series.
I've been doing this for a decade now. I take my job seriously. At this point, you'd think I'd have learned I could throw just any old team out there and be wrong. But no. I'm a glutton for punishment. Instead, I spend weeks thinking about this, asking everybody I know, studying numbers, polling people around the game ...
Read full story
SEASON PREVIEW: DAY 5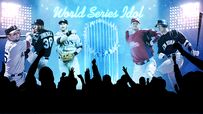 2010 MLB Preview home page
PREDICTION STORIES
YOUNG PLAYERS TO WATCH
VIDEO
PODCAST
SPORTSNATION