Discussion
Baseball Tonight Live
Originally Published:
October 31, 2010
ESPN.com
The World Series continues Sunday with Game 4 between the San Francisco Giants and the Texas Rangers at 8:20 p.m. ET.
Join ESPN's crew of analysts, writers, bloggers and other contributors as they discuss the postseason action on "Baseball Tonight Live" beginning at 6 p.m. ET. You also can listen to the game on ESPN Radio.
Baseball Tonight Live
Read full story
WORLD SERIES GAME 4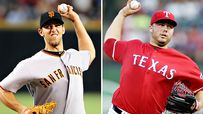 GIANTS AT RANGERS, 8:20 P.M. ET