Discussion
How very sweet it is for Edgar Renteria
In possible final game of his career, Giants' shortstop hits big HR and wins Series MVP
Originally Published:
November 1, 2010
By
Amy K. Nelson
| ESPN.com
ARLINGTON, Texas -- Edgar Renteria's career began on the fields of Barranquilla, Colombia more than 20 years ago. But the way it will likely end, as the World Series MVP, is because of a meeting in Chicago toward the end of the season; a turning point that eventually helped the San Francisco Giants win their first World Series in 56 years.
"It's unbelievable, being in this situation," Renteria said.
Indeed. With his three-run homer off Cliff Lee in the seventh inning, Renteria ...

Read full story
WORLD SERIES GAME 5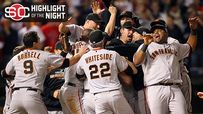 GIANTS 3, RANGERS 1