Discussion
Roberto Alomar, Bert Blyleven in Hall
Updated:
January 9, 2011, 10:22 AM ET
ESPN.com news services
NEW YORK -- Roberto Alomar and Bert Blyleven became Hall of Famers on Wednesday, the two-time World Series champions easily elected after narrow misses last year.
All-Star sluggers Rafael Palmeiro, Jeff Bagwell, Mark McGwire and Juan Gonzalez didn't come close in Wednesday's election. No telling if they ever will, either, after Hall voters sent a clear message: The drug cloud isn't going to cover Cooperstown.
"The writers are saying that this was the Steroids Era, like they ...

Read full story
HALL OF FAME 2011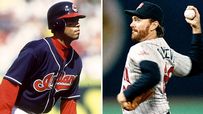 VIDEO