Discussion
Stocked farm system bodes well for K.C.
Several high-level prospects could soon give the Royals a chance to escape mediocrity
When Dayton Moore arrived in 2006 to run the Kansas City Royals -- the team he rooted for as a youth -- the prognosis was grim. Never mind that the franchise was in the process of losing 100 games for the fourth time in five seasons. The Royals' farm system had no catching or shortstop prospects, negligible speed, zero left-handed pitching and precious little pitching overall. Hope was manifested solely in the presence of two promising young hitters -- Billy Butler and Alex Gordon.
The ...

Read full story
ALDS GAME 1 SUSPENDED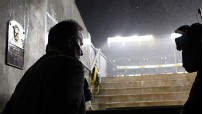 ALDS G1: TIGERS VERSUS YANKEES