Discussion
Beisebol from the ground up
Led by a legendary scout, the Rays chart their destiny in baseball's new frontier
This story appears in the April 4 edition of ESPN The Magazine.
Boom-boom, thump-thump, rakata-rakata-rakata-rakata.
In a small, crowded auditorium just east of downtown Sao Paulo, a musical ensemble of more than 100 people, named the Nene de Vila Matilde, begins its nightly practice. Men and boys with percussion instruments -- tiny drums, tambourines -- pound in rhythm with singers on stage. The February session is a warm-up for the group's performance at the ...

Read full story
ESPN The Magazine: April 4, 2011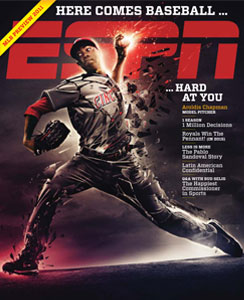 Check out ESPN The Magazine's April 4, 2011 issue below.
MLB Preview
Go/Play