Discussion
Ian Stewart makes opening day roster
Updated:
March 31, 2011, 2:41 PM ET
Associated Press
DENVER -- Third baseman Ian Stewart has made the Colorado Rockies' 25-man opening day roster.
Stewart homered twice in a minor league game Wednesday night, when he was testing a troublesome left hamstring that could have landed him on the disabled list to start the season.
With Stewart avoiding the DL, there was no room on the roster for outfielder Willy Taveras as the Rockies stuck with just four outfielders.
Right-hander Aaron Cook was placed on the 15-day DL (retroactive ...

Read full story
2011 PREVIEW: DAY 3 -- PREDICTIONS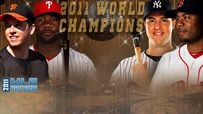 HOME PAGE
STORIES
VIDEO
PHOTO GALLERY