Discussion
2002 'Moneyball' draft class in review
A's had some success stories, but they also had an unwitting victim -- Jeremy Brown
If Oakland A's general manager Billy Beane is the engine that drives "Moneyball" -- the book and movie versions -- Jeremy Brown plays the role of the caboose. He got dragged along for the ride, and became an unwitting victim in the process.
The concept of "Moneyball" is rooted in measurables over intangibles, progressive thinking over conventional wisdom and the never-ending quest to find undervalued assets, and no player better represents the Oakland franchise's approach to roster-building ...

Read full story
'MONEYBALL' THE MOVIE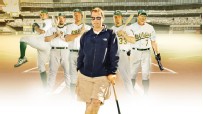 "Moneyball," starring Brad Pitt as Oakland Athletics GM Billy Beane, opens Friday night.
CONTENT
•
Crasnick: 2002 draft class in review
•
Meyers: Film appeals to casual fans
•
'Baseball Tonight' discusses 'Moneyball'
•
Goldstein: The A's since 'Moneyball'
•
Arangure: Billy Beane's soccer ally
•
McGee: Boise State's 'Moneyball' success
•
Page 2: Pratt talks about Hatteburg role
•
Caple: Film follows rules for baseball movies
•
Bowden: How 'Moneyball' impacted game
•
Page 2: Talking to Michael Lewis
•
ESPNDallas: Ron Washington enjoys movie
•
Page 2: Jonah Hill talks about movie role