Discussion
'Moneyball' a solid hit for casual fans
Hard-core fans might balk at factual missteps, but film delivers on book's main premise
Updated:
September 23, 2011, 12:43 PM ET
By
Matt Meyers
| ESPN Insider
Editor's note: ESPN Insider writer/editor Matt Meyers saw an advance screening of "Moneyball," which opens Friday night.
Like many fans of the book "Moneyball," I was skeptical when I heard it was being made into a film. Pretty much every successful sports movie ends with some sort of dramatic win (or at least a dramatic loss), and as anti-stat types are happy to point out, "the Oakland Athletics have never won the World Series under GM Billy Beane." My skepticism only increased when ...

Read full story
'MONEYBALL' THE MOVIE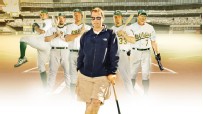 "Moneyball," starring Brad Pitt as Oakland Athletics GM Billy Beane, opens Friday night.
CONTENT
•
Crasnick: 2002 draft class in review
•
Meyers: Film appeals to casual fans
•
'Baseball Tonight' discusses 'Moneyball'
•
Goldstein: The A's since 'Moneyball'
•
Arangure: Billy Beane's soccer ally
•
McGee: Boise State's 'Moneyball' success
•
Page 2: Pratt talks about Hatteburg role
•
Caple: Film follows rules for baseball movies
•
Bowden: How 'Moneyball' impacted game
•
Page 2: Talking to Michael Lewis
•
ESPNDallas: Ron Washington enjoys movie
•
Page 2: Jonah Hill talks about movie role