Discussion
Game 6 surprises fans, athletes alike
Updated:
October 28, 2011, 9:04 AM ET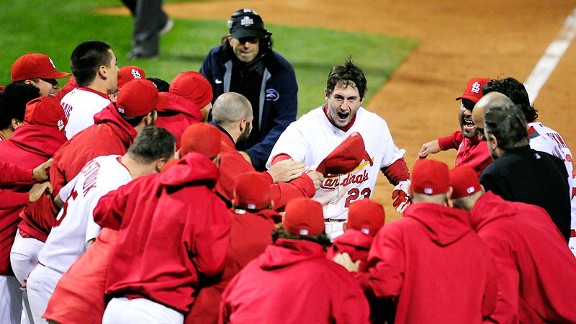 David Freese slammed two clutch hits in the World Series to give us a Game 7. We hope we can take it. Read the reaction we found across the Internet and leave your thoughts below.
Here's what SportsNation had to say:
wrjs81: This has been one of the most exciting World Series in recent time.
leftyman39: Yeah, so the Rangers are done. After their epic collapse tonight, there is no possible way they'll beat Chris Carpenter tomorrow. Cards win game 7 6-3. Quite possibly the best World Series game ever played tonight.
GOSSKPCR: Rangers have to forget all this tomorrow.
rab0146: They should, it should be be another hard fought game... I might have to go to the hospital.
Athletes and celebrities react on Twitter:
Jarrod Parker (@JarrodBParker) Greatest game of the year?!... Yes! Greatest #WorldSeries game ever!? Maybe but who's ready for #game7 now!
Paul Pierce (@paulpierce34) Best baseball game I ever seen in my life wow I still can't believe it
Steven Jackson (@sj39) I was trying to not tweet while watching/ supporting Cards but I couldn't help myself. Let's go STL.
Jose Bautista (@JoeyBats19) Ummmm, when is Freese's statue being built??? #wow #unreal #bestgameofhislife
Jensen Lewis (@JLEWFifty) Are you kidding me?! David Freese now will have a street named after him in downtown STL.. #FallClassicHeroes
Chase Daniel (@ChaseDaniel) That is the best baseball game I have ever seen! Hand it to the Cardinals, they had no quit...but that's why it's best of 7!! #WhatAGame
Dirk Nowitzki (@swish41) One strike away twice. Sports can be so cruel sometimes. Gotta forget abt this one quick. Everyones ballgame 2mor. Go rangers
frank catalanotto (@fcat27) That's going to be a tough one to bounce back from. The Rangers were 1 strike away (twice) from their first ever title. Crushing
Nick Jonas (@nickjonas) Even though the Rangers didn't win... That was hands down one of the greatest/most entertaining baseball games I've ever seen.