Discussion
Pricing the free agents
A former GM puts a dollar figure on the top players available this winter
Updated:
January 31, 2012, 7:26 PM ET
By
Jim Bowden
| ESPN Insider
With Albert Pujols and Prince Fielder finding new homes this winter with Los Angeles and Detroit respectively, the offseason has proven bountiful when many experts thought the market would be lean for them.
I served as a general manager for 15 years, and committing big dollars to a free agent is always a gamble. You have to try to balance age, injury history, tools, performance and makeup before making an offer.
I decided to put myself back in the GM's chair to evaluate this free-agent class. The following is my estimate of what I would pay the top 50 free agents if I were a GM of a club that had the budget and need for that kind of player. The players are ranked by their estimated average annual value (A.A.V). I use A.A.V. because that is what the MLB Players Association is most concerned with when evaluating contracts. When the A.A.V. is equal, tie goes to the contract with greater overall value. To get a better feel for the market, I also talked to agents, scouts and execs who will be heavily involved with this offseason's bidding.
You'll notice Japanese phenom Yu Darvish is not included, and that's because there was some uncertainty regarding whether his team, the Nippon Ham Fighters, would post him and thereby make him available to major league clubs. However, he was posted and signed with the Texas Rangers for $60 million for six years.


1B
31
9
$243M
$27M
Analysis:
Pujols is the Babe Ruth of this era. Don't be surprised if a team such as the Chicago Cubs makes a stealth offer of 10 years at $300 million, but I still think he will return to the Cardinals for less. Agent Dan Lozano's goal is to surpass
Alex Rodriguez
's 10-year, $275 million extension signed back in 2008 with the
New York Yankees
. However, with the Yankees,
Boston Red Sox
and
Philadelphia Phillies
not expected to bid, this seems unlikely.
SIGNED: Los Angeles Angels, 10 years, $254 million
For a full breakdown of how much former MLB GM Jim Bowden would pay for the top free agents, become an ESPN Insider.
Insider
Offseason Buyer's Guide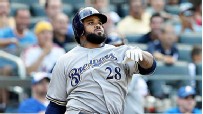 Prince Fielder headlines the 2011 free agent class, but who are the other players who could be changing teams this winter?
Rankings
Nov. 3:
Law: Top 50 free agents
|
Tracker
Nov. 4:
Bowden: Projected value rankings
Reaction
Jan. 25:
Bowden: How Detroit landed Prince
Jan. 24:
Law: Fielder helps now, not later
Jan. 14:
Bowden: Grading Yankees-M's deal
Jan. 13:
Law: Pineda-Montero deal a win-win
Jan. 11:
Law: Madson a steal for Reds
Jan. 6:
Law: Cubs win Cashner-Rizzo deal
Dec. 31:
Law: Quentin a mediocre fit in S.D
Buyer's Guide
Nov. 12:
Buyers Guide: Catchers
Nov. 11:
Buyers Guide: Relief Pitchers
Nov. 10:
Buyers Guide: Starting Pitchers
Nov. 9:
Buyers Guide: Third basemen
Nov. 8:
Buyers Guide: Outfielders
Nov. 7:
Buyers Guide: Middle infielders
Nov. 4:
Buyers Guide: First basemen/DH
Features
Feb. 9:
Perry: A case for the Nats
Feb. 7:
Szymborski: Ellsbury to fall off
Feb. 6:
Cameron: The cost of moving to third
Feb. 3:
Meyers: Poor drafts doom Cubs, Mets
Feb. 2:
Bowden: How to rebuild the Orioles
Feb. 1:
Goldstein: How good is Cespedes?
Jan. 30:
Szymborski: Projecting Angels, Tigers
History
•
Law: 2010 top 50 rankings
•
Law: 2009 top 50 rankings
•
Law: 2008 top 50 rankings
•
Law: 2007 top 50 rankings
•
Law: 2006 top 40 rankings