Discussion
A difficult transition
Yu Darvish will have one major adjustment to make if he comes to the U.S.
Updated:
November 10, 2011, 1:32 PM ET
By
Jason Coskrey
| Special to ESPN Insider
If you've been following the MLB hot stove at all, you know who Yu Darvish is. ESPN Insider's Keith Law even ranked him No. 3 on his list of the top free agents. The big question is whether his team, the Nippon Ham Fighters, will post the 25-year-old right-hander, thereby make him available to big league clubs.
If this was Darvish's last season in Japan, he went out with a bang, finishing 18-6 with a 1.44 ERA and 0.83 WHIP in 232 innings. Darvish's career numbers are equally jaw-dropping. In seven seasons he's 93-38 with a 1.99 ERA, 0.98 WHIP and 1,250 strikeouts in 159 starts.
"He has tremendous command with his secondary pitches and this year he was much more aggressive with the fastball, and I like that," said a scout for an American League team.
There are a few notable difference between MLB and Nippon Professional Baseball, but the biggest one is probably this: In MLB, starting pitchers typically throw on four days' rest. In Japan, it's six days' rest.
If you've ever wondered why so many high-profile Japanese imports have failed in the U.S., that's a good place to start.
To read more about the biggest challenge facing Yu Darvish if he comes to MLB, become an ESPN Insider.
Insider
Offseason Buyer's Guide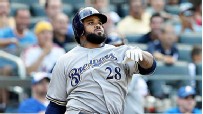 Prince Fielder headlines the 2011 free agent class, but who are the other players who could be changing teams this winter?
Rankings
Nov. 3:
Law: Top 50 free agents
|
Tracker
Nov. 4:
Bowden: Projected value rankings
Reaction
Jan. 25:
Bowden: How Detroit landed Prince
Jan. 24:
Law: Fielder helps now, not later
Jan. 14:
Bowden: Grading Yankees-M's deal
Jan. 13:
Law: Pineda-Montero deal a win-win
Jan. 11:
Law: Madson a steal for Reds
Jan. 6:
Law: Cubs win Cashner-Rizzo deal
Dec. 31:
Law: Quentin a mediocre fit in S.D
Buyer's Guide
Nov. 12:
Buyers Guide: Catchers
Nov. 11:
Buyers Guide: Relief Pitchers
Nov. 10:
Buyers Guide: Starting Pitchers
Nov. 9:
Buyers Guide: Third basemen
Nov. 8:
Buyers Guide: Outfielders
Nov. 7:
Buyers Guide: Middle infielders
Nov. 4:
Buyers Guide: First basemen/DH
Features
Feb. 9:
Perry: A case for the Nats
Feb. 7:
Szymborski: Ellsbury to fall off
Feb. 6:
Cameron: The cost of moving to third
Feb. 3:
Meyers: Poor drafts doom Cubs, Mets
Feb. 2:
Bowden: How to rebuild the Orioles
Feb. 1:
Goldstein: How good is Cespedes?
Jan. 30:
Szymborski: Projecting Angels, Tigers
History
•
Law: 2010 top 50 rankings
•
Law: 2009 top 50 rankings
•
Law: 2008 top 50 rankings
•
Law: 2007 top 50 rankings
•
Law: 2006 top 40 rankings