Discussion
Buyer's guide: starting pitchers
Darvish heads the class -- that is, if he actually comes to the U.S.
Originally Published:
November 10, 2011
By
Keith Law
| ESPN Insider
Keith Law has already ranked his top 50 free agents, but now he takes you on a more detailed, position-by-position look through the available players. Today, it's starting pitchers.
Players in demand
1. Yu Darvish, RHP: Darvish hasn't been posted yet, and there's still a chance he won't be, although most people in the industry I've asked seem to think that the Nippon Ham Fighters will post him this offseason to try to cash in on his extremely high value at the moment. Darvish will sit in the low 90s with a host of off-speed pitches, led by a hard slider and a shuuto, which looks like a two-seamer in the low 90s or upper 80s. He's handled high workloads in Japan without injury or loss of velocity, and is unusually tall for a pitcher from Nippon Professional Baseball at 6-foot-5, with a prototypical starting pitcher's frame. If there's an ace in this market, Darvish is it.
For Keith's full breakdown, plus a list of some intriguing trade targets, become an ESPN Insider.
Insider
Offseason Buyer's Guide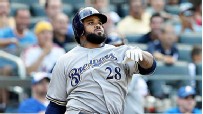 Prince Fielder headlines the 2011 free agent class, but who are the other players who could be changing teams this winter?
Rankings
Nov. 3:
Law: Top 50 free agents
|
Tracker
Nov. 4:
Bowden: Projected value rankings
Reaction
Jan. 25:
Bowden: How Detroit landed Prince
Jan. 24:
Law: Fielder helps now, not later
Jan. 14:
Bowden: Grading Yankees-M's deal
Jan. 13:
Law: Pineda-Montero deal a win-win
Jan. 11:
Law: Madson a steal for Reds
Jan. 6:
Law: Cubs win Cashner-Rizzo deal
Dec. 31:
Law: Quentin a mediocre fit in S.D
Buyer's Guide
Nov. 12:
Buyers Guide: Catchers
Nov. 11:
Buyers Guide: Relief Pitchers
Nov. 10:
Buyers Guide: Starting Pitchers
Nov. 9:
Buyers Guide: Third basemen
Nov. 8:
Buyers Guide: Outfielders
Nov. 7:
Buyers Guide: Middle infielders
Nov. 4:
Buyers Guide: First basemen/DH
Features
Feb. 9:
Perry: A case for the Nats
Feb. 7:
Szymborski: Ellsbury to fall off
Feb. 6:
Cameron: The cost of moving to third
Feb. 3:
Meyers: Poor drafts doom Cubs, Mets
Feb. 2:
Bowden: How to rebuild the Orioles
Feb. 1:
Goldstein: How good is Cespedes?
Jan. 30:
Szymborski: Projecting Angels, Tigers
History
•
Law: 2010 top 50 rankings
•
Law: 2009 top 50 rankings
•
Law: 2008 top 50 rankings
•
Law: 2007 top 50 rankings
•
Law: 2006 top 40 rankings