Discussion
Buyer's guide: Relief pitchers
Ryan Madson tops this list, but Jonathan Papelbon will be in high demand
Originally Published:
November 11, 2011
By
Keith Law
| ESPN Insider
Keith Law has already ranked his top 50 free agents, but now he takes you on a more detailed, position-by-position look through the available players. Today, it's relief pitchers.
Players in demand
1. Ryan Madson, RHP: It was reported earlier in the week that the Phillies and Madson had agreed on a four-year, $44 million contract, but the deal has not been finalized. I wouldn't give Madson four years and $44 million because I wouldn't give any reliever that kind of contract -- but don't mistake my criticism of the Phillies' reported deal with Madson as a criticism of Madson the pitcher. I'd give him more money and more years than any other reliever on this market, and I think he has the best chance to defy the high attrition rates that characterize his brethren of the bullpen. He throws hard, misses bats with his changeup, pounds the strike zone (eight unintentional walks in 2011, 10 the year before) and is as good a bet as anyone on this market to avoid arm injury. I just wouldn't give any reliever four years.
2. Jonathan Papelbon, RHP: As long as he throws his splitter to keep hitters from teeing off on the fastball, he'll be OK. He can't live on the fastball alone, and I don't think he's staring at another six or seven years of throwing that hard for that many innings.
For Keith's full breakdown, plus a list of some intriguing trade targets, become an ESPN Insider.
Insider
Offseason Buyer's Guide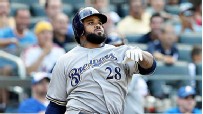 Prince Fielder headlines the 2011 free agent class, but who are the other players who could be changing teams this winter?
Rankings
Nov. 3:
Law: Top 50 free agents
|
Tracker
Nov. 4:
Bowden: Projected value rankings
Reaction
Jan. 25:
Bowden: How Detroit landed Prince
Jan. 24:
Law: Fielder helps now, not later
Jan. 14:
Bowden: Grading Yankees-M's deal
Jan. 13:
Law: Pineda-Montero deal a win-win
Jan. 11:
Law: Madson a steal for Reds
Jan. 6:
Law: Cubs win Cashner-Rizzo deal
Dec. 31:
Law: Quentin a mediocre fit in S.D
Buyer's Guide
Nov. 12:
Buyers Guide: Catchers
Nov. 11:
Buyers Guide: Relief Pitchers
Nov. 10:
Buyers Guide: Starting Pitchers
Nov. 9:
Buyers Guide: Third basemen
Nov. 8:
Buyers Guide: Outfielders
Nov. 7:
Buyers Guide: Middle infielders
Nov. 4:
Buyers Guide: First basemen/DH
Features
Feb. 9:
Perry: A case for the Nats
Feb. 7:
Szymborski: Ellsbury to fall off
Feb. 6:
Cameron: The cost of moving to third
Feb. 3:
Meyers: Poor drafts doom Cubs, Mets
Feb. 2:
Bowden: How to rebuild the Orioles
Feb. 1:
Goldstein: How good is Cespedes?
Jan. 30:
Szymborski: Projecting Angels, Tigers
History
•
Law: 2010 top 50 rankings
•
Law: 2009 top 50 rankings
•
Law: 2008 top 50 rankings
•
Law: 2007 top 50 rankings
•
Law: 2006 top 40 rankings