Discussion
Papelbon a mistake for Phillies
Giving any relief pitcher a four-year contract is a bad idea
Originally Published:
November 11, 2011
By
Keith Law
| ESPN Insider
I thought signing Ryan Madson for four years and $44 million was a bad idea, even though he is the best free-agent reliever on the market, both short- and long-term. The history of signing relievers to deals of that length is simply too awful to ignore.
That contract would have been a bargain relative to the four-year deal the Phillies are about to give Jonathan Papelbon -- more money, plus a lost draft pick, for an inferior reliever who gives up more fly balls.
Papelbon was the second-best relief option on the market, but even in one of his best seasons in 2011, he was worth only two or three wins above replacement, and I'd put the over/under on his WAR for this deal at around eight, which would still make it a pretty bad contract. But the real issue with any reliever and with Papelbon specifically is high attrition rates -- relievers don't last, and their peaks tend to be short.
For Keith's full breakdown of other free agent signings plus his free agent buyer's guide, become an ESPN Insider.
Insider
Offseason Buyer's Guide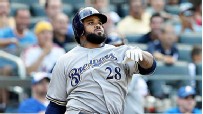 Prince Fielder headlines the 2011 free agent class, but who are the other players who could be changing teams this winter?
Rankings
Nov. 3:
Law: Top 50 free agents
|
Tracker
Nov. 4:
Bowden: Projected value rankings
Reaction
Jan. 25:
Bowden: How Detroit landed Prince
Jan. 24:
Law: Fielder helps now, not later
Jan. 14:
Bowden: Grading Yankees-M's deal
Jan. 13:
Law: Pineda-Montero deal a win-win
Jan. 11:
Law: Madson a steal for Reds
Jan. 6:
Law: Cubs win Cashner-Rizzo deal
Dec. 31:
Law: Quentin a mediocre fit in S.D
Buyer's Guide
Nov. 12:
Buyers Guide: Catchers
Nov. 11:
Buyers Guide: Relief Pitchers
Nov. 10:
Buyers Guide: Starting Pitchers
Nov. 9:
Buyers Guide: Third basemen
Nov. 8:
Buyers Guide: Outfielders
Nov. 7:
Buyers Guide: Middle infielders
Nov. 4:
Buyers Guide: First basemen/DH
Features
Feb. 9:
Perry: A case for the Nats
Feb. 7:
Szymborski: Ellsbury to fall off
Feb. 6:
Cameron: The cost of moving to third
Feb. 3:
Meyers: Poor drafts doom Cubs, Mets
Feb. 2:
Bowden: How to rebuild the Orioles
Feb. 1:
Goldstein: How good is Cespedes?
Jan. 30:
Szymborski: Projecting Angels, Tigers
History
•
Law: 2010 top 50 rankings
•
Law: 2009 top 50 rankings
•
Law: 2008 top 50 rankings
•
Law: 2007 top 50 rankings
•
Law: 2006 top 40 rankings