Discussion
Guillen: "I'd play for me."
The Miami Marlins manager says what he feels -- not what you want to hear
Updated:
November 30, 2011, 10:42 AM ET
By
Tim Kurkjian
| ESPN The Magazine
This story appears in the Dec. 12, 2011, "Interview Issue" of ESPN The Magazine.
*"If you are engaged to a girl for eight years and she asks if you're going to marry her and you say no, then it's not going to work. I wanted to stay with the White Sox, but they didn't want me. The Marlins wanted me. They are a young team I can mold, and that really matters to me. I expect it to be fun, and I expect to win."
*"My relationship with White Sox GM Kenny Williams? ...

Read full story
ESPN The Magazine: December 12, 2011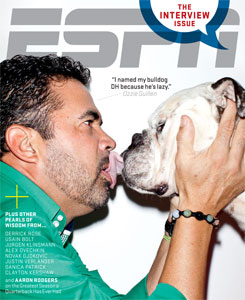 The Interviews
More from the issue