Discussion
Verlander: "No one has a chance"
The American League MVP and Cy Young winner discusses his incredible season
Updated:
December 1, 2011, 11:20 AM ET
By
Tim Kurkjian
| ESPN The Magazine
KURKJIAN: You were already a pretty good pitcher entering this season. How did you take it to another level?
VERLANDER: The big thing for me was slowing down the speed of my pitches. The first few innings, I try to slow down on purpose and establish a rhythm so that once I want to throw harder I can, and I still have the control that I do when I'm only throwing 91, 92.
Was there a specific batter confrontation that you remember thinking back, I could have picked a ...

Read full story
ESPN The Magazine: December 12, 2011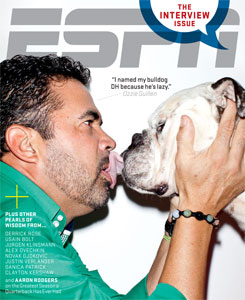 The Interviews
More from the issue