Discussion
Prospects affected by hot stove
Recent transactions could make (or break) the futures of some top young players
Updated:
December 14, 2011, 1:55 PM ET
By
Kevin Goldstein
| Baseball Prospectus
A lot of big names have already come off the board via free agency this winter, and many players have been traded, but the hot stove can also affect prospects. Those big signings and trades can create or take away opportunities from prospects, and while there will still be plenty of transactions between now and spring training, here's a look at some top prospects who have been helped or hurt by some recent moves.
Winners

Lorenzo Cain, OF, Kansas City Royals
When the Royals sent Melky Cabrera to the San Francisco Giants for Jonathan Sanchez, it not only handed Cain the center-field job, but also left the Royals with no real backup plan for now. Coming off a season in which he hit .312/.380/.497 for Triple-A Omaha, Cain looks ready in the eyes of scouts, while representing a significant upgrade defensively. He needs to improve his plate discipline to fit better at the top of a big league lineup, but he has the potential to be the long-term answer here.
To read more about elite prospects -- such as Mike Trout and Mike Montgomery -- whose futures have been affected by off-season moves, become an ESPN Insider.
Insider
Offseason Buyer's Guide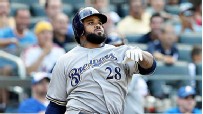 Prince Fielder headlines the 2011 free agent class, but who are the other players who could be changing teams this winter?
Rankings
Nov. 3:
Law: Top 50 free agents
|
Tracker
Nov. 4:
Bowden: Projected value rankings
Reaction
Jan. 25:
Bowden: How Detroit landed Prince
Jan. 24:
Law: Fielder helps now, not later
Jan. 14:
Bowden: Grading Yankees-M's deal
Jan. 13:
Law: Pineda-Montero deal a win-win
Jan. 11:
Law: Madson a steal for Reds
Jan. 6:
Law: Cubs win Cashner-Rizzo deal
Dec. 31:
Law: Quentin a mediocre fit in S.D
Buyer's Guide
Nov. 12:
Buyers Guide: Catchers
Nov. 11:
Buyers Guide: Relief Pitchers
Nov. 10:
Buyers Guide: Starting Pitchers
Nov. 9:
Buyers Guide: Third basemen
Nov. 8:
Buyers Guide: Outfielders
Nov. 7:
Buyers Guide: Middle infielders
Nov. 4:
Buyers Guide: First basemen/DH
Features
Feb. 9:
Perry: A case for the Nats
Feb. 7:
Szymborski: Ellsbury to fall off
Feb. 6:
Cameron: The cost of moving to third
Feb. 3:
Meyers: Poor drafts doom Cubs, Mets
Feb. 2:
Bowden: How to rebuild the Orioles
Feb. 1:
Goldstein: How good is Cespedes?
Jan. 30:
Szymborski: Projecting Angels, Tigers
History
•
Law: 2010 top 50 rankings
•
Law: 2009 top 50 rankings
•
Law: 2008 top 50 rankings
•
Law: 2007 top 50 rankings
•
Law: 2006 top 40 rankings