Discussion
How much should Darvish be paid?
By projecting his performance we can figure out how much he's really worth
Updated:
December 19, 2011, 11:42 PM ET
By
Dan Szymborski
| Baseball Think Factory
After much fanfare, we are one step closer to seeing Yu Darvish in a major league uniform. The Texas Rangers have won the posting auction with a reported bid of $51.7 million, and they now have a exclusive negotiating rights for 30 days with the best pitcher remaining on the market.
The big question, and one teams are trying to answer, is just what to expect out of Darvish. With a minor league or amateur pitcher, teams can generally take a "wait and see" approach. The $15.1 million the Washington Nationals needed to secure the services of Stephen Strasburg is just a fraction of the posting fee paid by the Rangers just for the rights to negotiate with Darvish.
So with Texas beginning negotiations with Darvish, let's take a stab at figuring out what he should earn. Using the ZiPS projection system, I can project his statistics over the next few years (you're welcome, fantasy players); and with a working knowledge of what teams typically pay for wins on the open market, we can calculate just how much Darvish deserves to be paid. So let's get to it.
To see how much Darvish's performance projects to be worth, become an ESPN Insider.
Insider
Offseason Buyer's Guide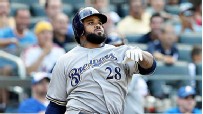 Prince Fielder headlines the 2011 free agent class, but who are the other players who could be changing teams this winter?
Rankings
Nov. 3:
Law: Top 50 free agents
|
Tracker
Nov. 4:
Bowden: Projected value rankings
Reaction
Jan. 25:
Bowden: How Detroit landed Prince
Jan. 24:
Law: Fielder helps now, not later
Jan. 14:
Bowden: Grading Yankees-M's deal
Jan. 13:
Law: Pineda-Montero deal a win-win
Jan. 11:
Law: Madson a steal for Reds
Jan. 6:
Law: Cubs win Cashner-Rizzo deal
Dec. 31:
Law: Quentin a mediocre fit in S.D
Buyer's Guide
Nov. 12:
Buyers Guide: Catchers
Nov. 11:
Buyers Guide: Relief Pitchers
Nov. 10:
Buyers Guide: Starting Pitchers
Nov. 9:
Buyers Guide: Third basemen
Nov. 8:
Buyers Guide: Outfielders
Nov. 7:
Buyers Guide: Middle infielders
Nov. 4:
Buyers Guide: First basemen/DH
Features
Feb. 9:
Perry: A case for the Nats
Feb. 7:
Szymborski: Ellsbury to fall off
Feb. 6:
Cameron: The cost of moving to third
Feb. 3:
Meyers: Poor drafts doom Cubs, Mets
Feb. 2:
Bowden: How to rebuild the Orioles
Feb. 1:
Goldstein: How good is Cespedes?
Jan. 30:
Szymborski: Projecting Angels, Tigers
History
•
Law: 2010 top 50 rankings
•
Law: 2009 top 50 rankings
•
Law: 2008 top 50 rankings
•
Law: 2007 top 50 rankings
•
Law: 2006 top 40 rankings