Discussion
Putting Yu on the Verlander scale
Ten MLB evaluators rate Darvish relative to elite right-handers, including the AL MVP
Updated:
December 21, 2011, 3:32 PM ET
By
Kevin Goldstein
| Baseball Prospectus
We now know that the Texas Rangers have won the exclusive rights to negotiate with Yu Darvish, generally considered the best player from Nippon Professional Baseball to ever hit the posting system. Combining his expected contract with the $51.7 million posting bid, the total price for Darvish will exceed nine figures. But will he be worth it?
To find out, I polled 10 scouts and big league executives, many with international experience and in-person looks at Darvish. Instead of pure comparisons to others pitchers, I asked the insiders to place Darvish on a scale, picking him against a series of five right-handers, varying from good to great. The question was this: "Based on talent alone, would you take Darvish ahead of this pitcher?"
The hurlers in question are Ricky Nolasco, Ian Kennedy, Matt Garza, Zack Greinke and Justin Verlander. Opinions varied wildly, but were overall quite positive. Let's take a look.
---
Scouting report: A frustrating talent. The stuff is there, the command is there, the peripherals often point to a breakout, but it just never happens.
While those polled were universal in favoring Darvish over a prototypical No. 4 starter with occasional glimpses of being a No. 3, some admitted that it was a question that was at least worth some thought. "It's actually close," said an American League scout. "I mean, look at Nolasco's numbers. Are we all really so sure that Darvish can do that?"
The unknown also played a significant role in the decision-making process for many. "I just think the change of scenery is so huge," explained a National League international scout. "It's a gamble. If I was Texas, I would have re-signed C.J. Wilson over Darvish. Everyone is different, and it's hard to know how players will react to being in a new environment."
The vote: Darvish, 10-0
To see how execs think Darvish stacks up against Verlander, Greinke, Garza and Kennedy, become an ESPN Insider.
Insider
Offseason Buyer's Guide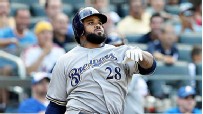 Prince Fielder headlines the 2011 free agent class, but who are the other players who could be changing teams this winter?
Rankings
Nov. 3:
Law: Top 50 free agents
|
Tracker
Nov. 4:
Bowden: Projected value rankings
Reaction
Jan. 25:
Bowden: How Detroit landed Prince
Jan. 24:
Law: Fielder helps now, not later
Jan. 14:
Bowden: Grading Yankees-M's deal
Jan. 13:
Law: Pineda-Montero deal a win-win
Jan. 11:
Law: Madson a steal for Reds
Jan. 6:
Law: Cubs win Cashner-Rizzo deal
Dec. 31:
Law: Quentin a mediocre fit in S.D
Buyer's Guide
Nov. 12:
Buyers Guide: Catchers
Nov. 11:
Buyers Guide: Relief Pitchers
Nov. 10:
Buyers Guide: Starting Pitchers
Nov. 9:
Buyers Guide: Third basemen
Nov. 8:
Buyers Guide: Outfielders
Nov. 7:
Buyers Guide: Middle infielders
Nov. 4:
Buyers Guide: First basemen/DH
Features
Feb. 9:
Perry: A case for the Nats
Feb. 7:
Szymborski: Ellsbury to fall off
Feb. 6:
Cameron: The cost of moving to third
Feb. 3:
Meyers: Poor drafts doom Cubs, Mets
Feb. 2:
Bowden: How to rebuild the Orioles
Feb. 1:
Goldstein: How good is Cespedes?
Jan. 30:
Szymborski: Projecting Angels, Tigers
History
•
Law: 2010 top 50 rankings
•
Law: 2009 top 50 rankings
•
Law: 2008 top 50 rankings
•
Law: 2007 top 50 rankings
•
Law: 2006 top 40 rankings