Discussion
Time for Nats to go all-in
With farm-system depth and payroll flexibility, the Nationals are ready for a run
Originally Published:
December 22, 2011
By
Matt Meyers
| ESPN Insider
You have to hand it to the Washington Nationals, a team that has done a nice job of positioning itself for the future. After bottoming out in 2008, the Nationals ended up with the No. 1 overall pick in back-to-back years and were able to select right-hander Stephen Strasburg and right-fielder Bryce Harper, two once-in-a-generation prospects. After another bumper crop in the 2011 draft that featured a number of elite college players, such as Anthony Rendon, Brian Goodwin, Matt Purke and Alex Meyer, it looked as though Washington would be poised to contend by about 2014 or so.
However, sometimes the future comes more quickly than one might expect. Not only are the Nationals closer to contending than it might appear, they seem to know it. ESPN's own Rumor Central has not only kept tabs on the Nationals trying to trade for Oakland Athletics left-hander Gio Gonzalez, but is also monitoring the Nats and their pursuit of free-agent first baseman Prince Fielder.
While it often makes sense to methodically build toward a championship window a couple of years down the road with a homegrown core, the current baseball landscape is such that the Nats could put a contending team on the field in 2012 -- and for years to come -- if they can land both Gonzalez and Fielder. That's why it's time to go all-in for the duo. Here are five reasons.
To read the full story about how the Washington Nationals should sign Prince Fielder and trade for Gio Gonzalez, become an ESPN Insider.
Insider
Offseason Buyer's Guide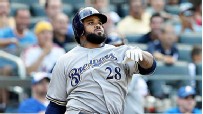 Prince Fielder headlines the 2011 free agent class, but who are the other players who could be changing teams this winter?
Rankings
Nov. 3:
Law: Top 50 free agents
|
Tracker
Nov. 4:
Bowden: Projected value rankings
Reaction
Jan. 25:
Bowden: How Detroit landed Prince
Jan. 24:
Law: Fielder helps now, not later
Jan. 14:
Bowden: Grading Yankees-M's deal
Jan. 13:
Law: Pineda-Montero deal a win-win
Jan. 11:
Law: Madson a steal for Reds
Jan. 6:
Law: Cubs win Cashner-Rizzo deal
Dec. 31:
Law: Quentin a mediocre fit in S.D
Buyer's Guide
Nov. 12:
Buyers Guide: Catchers
Nov. 11:
Buyers Guide: Relief Pitchers
Nov. 10:
Buyers Guide: Starting Pitchers
Nov. 9:
Buyers Guide: Third basemen
Nov. 8:
Buyers Guide: Outfielders
Nov. 7:
Buyers Guide: Middle infielders
Nov. 4:
Buyers Guide: First basemen/DH
Features
Feb. 9:
Perry: A case for the Nats
Feb. 7:
Szymborski: Ellsbury to fall off
Feb. 6:
Cameron: The cost of moving to third
Feb. 3:
Meyers: Poor drafts doom Cubs, Mets
Feb. 2:
Bowden: How to rebuild the Orioles
Feb. 1:
Goldstein: How good is Cespedes?
Jan. 30:
Szymborski: Projecting Angels, Tigers
History
•
Law: 2010 top 50 rankings
•
Law: 2009 top 50 rankings
•
Law: 2008 top 50 rankings
•
Law: 2007 top 50 rankings
•
Law: 2006 top 40 rankings