Discussion
Sorting Prince Fielder's suitors
Resources shouldn't be the only factor when teams like the Cubs pursue Prince
Updated:
December 26, 2011, 11:45 AM ET
By
Dayn Perry
| ESPN Insider
Barring a blockbuster trade to be named, Prince Fielder's destination is the next -- and last -- big thing this offseason.
Fielder, the outgoing Milwaukee Brewers first baseman, is one of the best pure hitters in baseball. He's coming off a season in which he ranked third in slugging and total bases and second in on-base percentage. At 27, Fielder is also entering what should be the prime of his career. So it's reasonable to expect that he'll average 5-7 WAR per season in the next few years (WAR = wins above replacement).
Dan Szymborski of FanGraphs has already argued that the Texas Rangers could benefit greatly from signing Fielder, as could the San Francisco Giants, Cleveland Indians, Miami Marlins and a handful of other hopefuls. This raises a related question: Who doesn't need Fielder?
Obviously, we could compile a lengthy list of teams with certainty at first base -- the big-spending Los Angeles Angels, New York Yankees and Boston Red Sox, for instance -- or without the necessary resources to sign Fielder. But what about those teams that, despite a superficial need for a slugger like Fielder, shouldn't be among his suitors?
To see which teams are the best potential suitors for Prince Fielder, sign up for ESPN Insider.
Insider
Offseason Buyer's Guide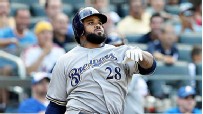 Prince Fielder headlines the 2011 free agent class, but who are the other players who could be changing teams this winter?
Rankings
Nov. 3:
Law: Top 50 free agents
|
Tracker
Nov. 4:
Bowden: Projected value rankings
Reaction
Jan. 25:
Bowden: How Detroit landed Prince
Jan. 24:
Law: Fielder helps now, not later
Jan. 14:
Bowden: Grading Yankees-M's deal
Jan. 13:
Law: Pineda-Montero deal a win-win
Jan. 11:
Law: Madson a steal for Reds
Jan. 6:
Law: Cubs win Cashner-Rizzo deal
Dec. 31:
Law: Quentin a mediocre fit in S.D
Buyer's Guide
Nov. 12:
Buyers Guide: Catchers
Nov. 11:
Buyers Guide: Relief Pitchers
Nov. 10:
Buyers Guide: Starting Pitchers
Nov. 9:
Buyers Guide: Third basemen
Nov. 8:
Buyers Guide: Outfielders
Nov. 7:
Buyers Guide: Middle infielders
Nov. 4:
Buyers Guide: First basemen/DH
Features
Feb. 9:
Perry: A case for the Nats
Feb. 7:
Szymborski: Ellsbury to fall off
Feb. 6:
Cameron: The cost of moving to third
Feb. 3:
Meyers: Poor drafts doom Cubs, Mets
Feb. 2:
Bowden: How to rebuild the Orioles
Feb. 1:
Goldstein: How good is Cespedes?
Jan. 30:
Szymborski: Projecting Angels, Tigers
History
•
Law: 2010 top 50 rankings
•
Law: 2009 top 50 rankings
•
Law: 2008 top 50 rankings
•
Law: 2007 top 50 rankings
•
Law: 2006 top 40 rankings